INDUSTRIAL LAMPS
Infra-Red Lamps for Industry
We supply a wide range of industrial Infra Red Lamps to manufacturing industries. Our range covers many applications including Print Drying and Curing Processes. Typical examples of widely used models are shown here However, we welcome enquiries for ANY TYPE OF INFRA RED LAMP.
In addition to a wide range of standard models our flexible manufacturing resources enable us to produce non-standard and 'obselete' lamps.

So, if you have a problem sourcing halogen lamps, don't struggle - call us!
FOR MORE INFORMATION ABOUT INDUSTRIAL LAMPS PLEASE CONTACT US.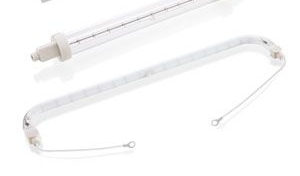 Near IR describes the short-wave radiation that is adjacent to the visible area of the spectrum with wavelengths between 780 and 3000 nm. Near IR is applied for contact-free rapid thermal processing.
High power densities of near-IR lamps make these wavelengths the preferred choice for RTP applications in the semiconductor as well as for PET bottle blowing in the thermoforming industry. But also annealing or melting processes make use of these wavelengths