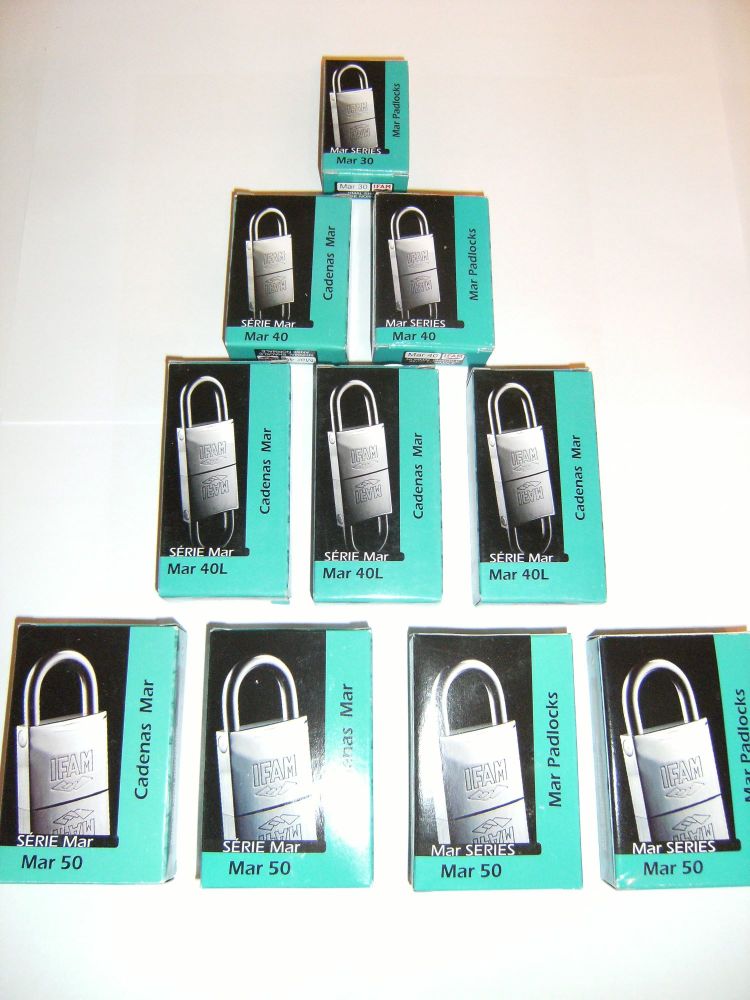 10pcs.IFAM 50mm KEYED ALIKE LONG SHACKLE MARINE PADLOCK. SALT SPRAY TESTED.

10pcs MAR50 LS KA 085015

£143.10
OUR MARINE PADLOCK RANGE IS DESIGNED SPECIFICALLY FOR SEA-GOING AND COASTAL APPLICATIONS. RESISTANT TO SALT SPRAY AND CORROSION THIS RANGE IS WIDELY USED ON WORK BOATS, PLEASURE CRAFT, MARINAS AND LEISURE VEHICLES IN COASTAL LOCATIONS. ALSO USED IN MANY OTHER OUTDOOR SITUATIONS.
THIS ITEM IS 10 KEYED ALIKE 50mm LONG SHACKLE PADLOCKS WITH THE SAME KEY PATTERN.

THIS IS THE LONG SHACKLE KEYED ALIKE VERSION OF OUR POPULAR 50mm MARINE PADLOCK. MORE SPACE INSIDE THE SHACKLE FOR LARGE HASPS, MULTIPLE CABLE LOOPS AND OTHER TRICKY APPLICATIONS.
Marine quality 50mm Padlock. Keyed alike.
Keyed Alike locks are normally ordered in sets of 2 or more to be used with the same key.

For applications where it is convenient to operate multiple locks with the same key.

We supply Keyed Alike locks in

any quantity

small or large.
Each lock operates from the same key pattern.

Each lock supplied with 2 keys.

This model has passed all rustproof tests including more than 3000 hours salt spray tests to ASTM B-117, DIN-50021 & ISO-3768
Chrome plated extruded Brass Body
Stainless steel shackle
Stainless Steel components
Double Locking mechanism
Individually boxed.

UK delivery and VAT included for any quantity.

We ship worldwide. Buyers outside the UK please check Postage & Delivery tab for rates to your country.

Please contact us if you need more information or if you need help with an unusual application.
Dimensions for this lock shown on the chart below. M-50 LS.

<img src="data:image/png;base64,iVBORw0KGgoAAAANSUhEUgAAAckAAADtCAYAAADUdY7lAAAAAXNSR0IArs4c6QAAAARnQU1BAACxjwv8YQUAAAAJcEhZcwAADsMAAA7DAcdvqGQAAP+lSURBVHhe7P1nlGVHdh4Kftfb9La89yh4jwbbe6umEd2QIsUnSqQozcz/WWveWprRovSeREnkEzlskSLVzSa7yfYGbeHR8K6A8t5kpbc3rzfzfTtOZJ66yCoUCtXdADt3ZtwTJ8wOcyL2FztORJxIi4RVWqVVWqVVWqVVeg1Fg+sqrdIqrdIqrdIqtdEqSK7SKq3SKq3SKl2GVkFylVZplVZplVbpMrQKkqu0Squ0Squ0SpehVZBcpVVapVVapVW6DK2C5Cqt0iqt0iqt0mVoFSRXaZVWaZVWaZUuQ6sguUqrtEqrtEqrdBlaPUxglX4mSY2ejZ+/DTQjUdrlyjEjLWaPROSwSv/IqOWevLsxe3Dh81594qu0Eq1qkqv0M0kRk4wUmUTEFpq8NgI7ReUqQP4jJvds9atBUqvVdPcBXq7SKrXTqia5Sj+7xJbf5F+jVUXCZGeMRkJzdez4j5f40ANg5KiI/1GaOJ+4BkfOeZVWKUyrILlKP6MkQRkhQDYwNXkeszNzFJpxNANtUnAp8r0jrFy295gr+b0RaldgxetSN924BNr93ky6IseLoBEwas/LpX7L+RC9mbR9uuLn+fi0V+J7Jb/XI2Ki/UTRoIXPvtFALpfFmg1bECdQvrbMq7RKbCk/TpB8Pdaus/3joEsFyPUh8fxx19FPIo12uly7UD6uph6vJs+vH0aCUuGAoycO4kvfeQyjMw20YgmK6+aSLulzGubUnvsr+b0Ras+teF3qpjuXQrvfm0lX5HhpEtpxas/LpX7L+RC9mbR9uuLi+fi0V+J7Jb+roSaHP9FWnc+9iZ1r+3Db3nW49da7kEokydtzX6VVWqYfC0heDUsvxF5P2HkK87zaOK9H15On5/VWzNuV6M3m+43GD5frzdDl0jPuV5EniWSFihIrD506gv/wV9/BgbM1OsSobDTNT7FXuoo85/B9u5/Iu4nCfEQr8QqHWclf5O7DIRytFH7luJfet/uJruTf7he+ilYKfzk/Udhtpbgi7xe+ilYKfyU/kd5FNhtlfOKenfj0vduwZ88exJNpDoxWp9lX6bV0TSCpGD9Gub1Kq/RjJweDxMRmE0dOHMW//5tH8NK5FmLROBt3nYL1OjTwS7pWoH/Zj7sXTNsvO9NSaj5KMO27ci4YSIysEzKUMdXbVRdaPK9MLoQLTVvAx2WOxq9iWQ4U2INw9su8sXyWDXOhW6i8ywOUIDwDOhfPVIb2pRUzPtfi7GnZ9roUruultAMK/Bxn51dvVPCpuzbh03etxV6CZCyZpc8bSG+VfmbomkCyXq+jsDCLSqXKZqWVgWp6bOS+kwU9R21VXb1JQaQb13Z9chy1BVYLpw7nbhV1RVJOI1E1dY34GD6IECUDuS7x8O5RcZIfHfRPf9d5FYBG8VoULXSK6AV+00X04XSN0t2Fp4bBsJqKM7JM8sfYLKcrPq5s5Mv0xcPZbWkAmp63i+1+6U9Hf+d4XRW5OI68XbHbOJggCrnRqjsnFMLGuSnLFqItnhd8VqagHpbd9Cs31qO1A/nZxRG1s9emGyb3PD0/R4pAoyqlvcnno5pzzz/gL4b2wxuzB/HpqZB6pPl8Hrlcju3BxRMFMWip48jxY/jDzz2KF8/XEbfpVvOw3+tFMbJT7WgFLZswuUfRZAZc22FOW9RjWFZVnfIdQcPlQGG8xYyrd2uPFkLxWK5Ize6bEU0nyt0ikZbL7NwUSm4R5smt6G3YwpVG8LjjqEfr9HO81d6VqtJosG1H2VaVb8U3X4vE/DLjlh+X2cBN9/65p2hvMH7d/FqtJNPWYITpsixNe16Kq9J7NnK7zkTmSqdVr+ITd27CJ+9eZyCZTGSDAKskcn2c1aXnQvul/fLtR8IgvYOOxdg/QnLgauiaQLJaLePpp36EixdGmCArlB3BCS41arVCV6HW4cleGbRKdr3Q/Kzz0ip3GYVZyomih7Ilm6KKX4zAI1AUNRpOYLhCSyA6Hu3P0z1o2STAFadpcdyDZ6dX2vI2kFTXd2JK/vGgQuXWCMIZe2bIhVKCtBsD5U1g6jIgkG5ZuSiWjI+rC59fI14adT081Qc5Mo4AdakO6ebyrHSCPJuXflwYI0vfk25CDhJUoXtXH0EZWd7legv4W1DVp3tv58Nf0rh8nnwedOGtBgEqf7h+nZ/qi1bj/VqyAYjyxDgunkvT1Rfv+e+fd5wNXfUqMm1Gf9bYzCnIURR1Ps8aw91+++02pbYyESSPHcd/IEi+cL5G3nGyEYfLZPQayWXP8Y0xTYFKk4Dktp24dbUR1kHTmkHUQNVtS1FEVyIX29nlxifHe4FXjHVWMwBTuQ3W7J8/rJ8lUt3ylikbH9Vdg4jdgspMAGOQGDNQp5tAMqo8MoKM8aKRu6t5pSw/PSfx4p2Fky/dFDxI2soKDj6iVcGh5b0RSVr6RorPNmrlUbmV1tLg1KV2vUh5tGutQpDcjE/eQ5DcS5CMr4JkmNT3CoUCisUi+vv7DVzezuTwxckwJ1+unkJS7+rJJ6KOpQUQ6tytJjs0MyK7RuetJk2do1uid0TuMg02f0ZxxrmB8Sj9zEQYx0yDo026i5dGxZoSU4e00S3jNajJNhVenYjhmrxX+i6d4Kp8hNOmwBdvBlaNhfzViSkoyEM9NCoHC0M/dtCm+DM/SmMpntLlf4TljLRq5CE+ugb5V1oMJ54N1oHFbwR1wTRcfl0ayoPho/fjVXZXn85YOAp81cVSeRiGzGlX2isZVz5vWgzrjfhZ3bIQUQoNXZVnldvyznLbCJ9hfHqK02RZfFwDf+bJ5Vf+qhPlL5RHy4d3Y31ZGKazovE8AxO46Rnrnv+0uz+TmzQtticmaX7Ki+wiXQTwDniduWp6Y/3nDZFATFpkg4BSZ521ODhq1pk3V4Ag37TaoEYZEaRIY6Rhn3PalgCNRm2G9woVoUamuDWxYrW5GhD4KQyv3vBPNSrustcZWQOPiPqp2p6i8ldVX2MzqbKdMosMyRZCf+W5JjBUHsmnFknRJBlHLSgIZ/l1wCmttsG8Ngm8egfoyuhAvMG2Zm1bFJULE1Sbs1wonMvlKv10SDL+6NGj+Na3vvWGQeWtSAJHAf21lOXaQFJGHdSMkDnOTDADzsemKOUnjS9GE6ef7EuGoZbtLpa7jy6ZmDcsnOLruhSXMeSnqwuvCRuKFF2pdZiRPUZ/RpAiontd47xKO1zOLf3IX9qJaanGx6Ub09SV+MtOJIsHxngrjHgqP5R8ibjzk9ajvMSVFu8T5CtDThZH6chY3n36QRlcOeQe5N/8dB+UUfmwfCmE6iFk6GBGYkhhlb+l8EyTz0hXb+hKsCMfCjNpvzKWjyB9lwcXX/z0DLwx9yCsXemvAbqMy6d4OvuS3yX5daLSADowcUZIxplH8nfpi69Lx6XF+gzSlpS29sW8WfvTn9K1+peb/HSvfLs8iCTor0RBsB8LEQdskKcc1Aka6UQcvZ1x9OQiSLQqGvuh1iCoEJVswEJAiTRZBqtX2mUcvCzZDU5YHTZY5G8yQV4qA28NrhhAoCwnq3/axY+ISfaa8YiyzmPIEZRjGsgwjqBKU8Cd+QR6mL9svI5YtYIE85Jj5Dg0rRvkR7yNv56nNFGnjS49XwvDfEQbyCWp6dLd0mWmU6yQdLTMMBXG4CCSETWd21DDUZsIQHOVfno0Pz+P6elp61M/y/SmSm8jSk2VmGinEVhS2KoTsj/w3nqwpeIA1Rn1U5GNXk1rcC7e35P8zF9/EjAydDceK8QxF1m9oYNyZ/9BOPfO0IX104thw58l4WsRA6N7pa55bS/8zY/l5R3jLE9HqPgiBZGwdnzlIDfH3wfQvcqiq6Yq5bZEgb+PJ/L14O8dqTTO3U13KqcujDPaA0bDZxS1q9I3CKYhH19P5h4utyPx82RpBM9MvD0ohcmnK/JxfZ6CnLKO9FwlBKnxUaC6UMqF+KlOl+3Kk4Sx1VooL55WSk+8DGCVv4D75UgpLdGVg147MX/SBAkH6O7M4gP334qPvf8u/MJH34F7921GmmCRT0expjODuLR2ZkQwYYqm6q5FrZJIIg27YTM1yreed8M0PG1heP87bsW+Db3QjI2mmnVIgvaBKqyUVfFpMq7gVdq1muH9d9yCm7dusDQF5Mrn/t0b8E8+cDc+/cF78E/eczvWZqPozXXgIz93GwY7Ek4LZvx4s4o4NURp+saVdddg468zr8wCgd/NYKxdM4CPvOsO5JPUgJUR9qG7b96DO2/YQpBkKVU+RpBXqxlnJvRe2J72Kv0UqVqtoqurK7j72aVrbIkhQeoRgeQFpglBNny9XzOpw38PDPJfAgmSv/dx/b27unsZkXN3ca2zkXxceti9BKsDad0rbHBPH+MlzULhJWJMIJIn/d10HbtmkLbzc/Fkt3de4hHwdO/AFNYNDqyDm5vCaJwvgSRh4viKfDmsbiwNY2xuIldfy+HCFI4r0r25yTkwvmwrxQ8lQ1IOVyIF8gGXQdbz9HwFkiJ/78Os9FJc90uGdeXtpuFS07M822CFgc2ItzQlxRVfpev4KGftafl7GU8+XyrDJblZcv/Jk/pEjQWIUNu9/7Y96EvW8cjDj+HIifN49z13YstQJ3Zs7sZ779yFHKugURMQltCsF9BsVGxatlGtoVkrI1IvoVWrBtO1BMJ6ESlUsWttP9bmUohWCVwM12pU0axyIKJp6RpBzHgyHvmivkitsohNw91Y15WihkjwJaitXz+EOwheR158AU88+SJ6+wfwjrsJcLk4dm7sQT5OTbIu3oRF5bPOa53aoPLBNJsEUPGpN2r0rKBVLaIzl8a+jYNIRejOvILAuqW/Cxv680JuxquxTEXEa0VExUv9hs9qFSh/ulSpcOCW5zP6GafY/5sU2K+aJCQvXDiPAtVxCSQvlNz7n0DIaugvUcf7cBhRWNB7QRf2F4Xvncbn3Jzdx2kP5/h4N13CwpMurzEO/ARkFMyBwHZ+TIOiQ9qWvSPjn009msaoMEE4gSLdGxo6y674lgd6yymoDlF7/qweaKULk1E8penCmUcgJBTOl2OpfkkWLuBh98pzWxqOFMfFe627J9pd1vnjeC7X87Lx+fDPzZO3r+Qmkn3ZOP76sT+6LfPTs7AIqg4j3cpf7S6crq7huhE5/svp6vkOrVmD/oEBu1/2EYlzC1PTM3j8wBmMLmgKWLwuDXV9iGkRVJKJNN57936UJ8/h2ZfP4sSFAsqlEkos20137sU9uzZh6uIstm/bgLtv2YJ9OzYgShCJEeDuu3U3bty5DrfesA0dHGCMT85gw8a1eM99+7F3+xZs7u3A+RNnEEml8O77bsL+nZuxnmC0MDlGPptw176t2LquD9k0cNfNN2Hvnm3YOtCB2XPncHh0DmW2992Ms29TL5566nkcubCAi5OzBMImCgTA2/cMYairk3nbgmwihrGpRdo34b137cd+5rOvI43psTH0d+fxrrtvwq17tmCImrFecm4bzOHFo6ewb98O7NyyCWs6kqgX5/HquUnmYzvecfsN2LlpCKX5GcwXS6jHNe2uJ3Gdn4VnRyDfta4buzd0YoADgVgsEXiskqeXXnrJNMnt27cHLj+btCxd3gA50SLjhJTXLPw0nBqiBLZfTOGFmcgLMVtMoXCBn/d3RE3MWKpFuyx6PhplWjuXYAyEo8VXHBpx0Z2/akWqX3Gpv+VwBDz9CSQDYFOSCmtgQyObuNh7NYVRWBm5MwHx1HsdvWORkbvg1Lzlb3aVk5wsCvPC0bQm0wx2HRsLp/R0Yytb5ab6CXzb60/2pbq2xAJzBVI8q7/LkuNhLAN+4Wei9PxzbgdIkT2DwIjC/kt8zMnnmYMNGZvyZf35tDUlbPxlFwXPrY3/SrRSGL2HuzJdWg5HrxvpDZNmKzQ4KFMDPHDiLG6+4xb8b7/0PtyxtRdHjx/GqQsTKBWqmJ1ZQIYAsoma14WRMZuGfP/dN2PrcB8+ct8e5NmeKtTa3nv/jdi5oQfvJ0Dlm3UUyiX0dmUQT0Wxe/d2NrsGRkZHcOtNm7BvwxrcfsN27N/Yh/nZOdxx014M5eMozs6jr6+D+dI0qKbkYzh3fpSAHcXv/Nan8b47NiFeX8DzLx1EuZFAMknAnS+jVC7i3jv2YdtwF27atRlVgt3ExDjeeftu7Fzfhftu3oEN3RlMjI9h46Z16OvtohbdwA17NuNdt+xEi3mtmMYJbNkwjJ/bvwOFiyNIpaO477Zd6Iizh1IB1jvz60lLTzWw2FaWoK2w1dj17UxX6hvXQnNzc9aPFxcXbdvfm6Xrnb+fFF1TKzQBqALThIXh0hSY/uguu9y84JKbD689b+7qBK/3d+EFLIERnCwBBjNMjUvvWTSlIzItj4ZiVL0KdV4V2qVF7YNxrQMoy3JTJLEWO97r0qoz7WaMRmCnvCg1hrQ4LrBC2qIJ3mtVHrs47XJz+bPFKpoaVFmVtyCe5cjeu2h6qmZ+LY7MBdC2gEbCkyZKd61btPIoA0bkzzyGQcnXkXcLG0+KHwa1lcJ4ktvSswn+RHJbzscyMOqdrKjdX+Tvw+n4cOanf5a1KenkQXLJKB+KoTzLEsRhUL/wRnx9ucJp+ftwuiJ3Rz7Gz9+vRPK5vO/1IZbPVs3U8cTTr+LBZ44j19eHX/nFD+C3PvUeDGQTBJVJjI1O4bnDp/C1R57A+GwRiXgcA9TGcvEWCrNTePz5V/G9549hoR7H5nVr0IEanvzR03j46RdxbnbBVrg++swLePLVQ1Rb48hlEujLZ9CsVnH41Bk8f24MiWgSLzz5Er7/xAs4Mj6DOvtUREcPURqcoyb4lYeexMX5Gt573z34t7/xKdx3y3ak2J4LCxU8feA4Hn7xOJpsg13RGh58+FEcPH4BsWQaHfk0Ng/3Yw0B8tXnX8T3nzyMf/j+C7g4XUU/3T9+z404/fJR/Oj5I6gwo61oDBsIkmvyUaS0yojPb+uWDegn2Mca2oPtntt1JT5m/6Td9cf93H9yJCDTFOlSf3uTlEql8PWvfx2f+cxnMD4+HrheO/n+WS6Xrwvo/qTomkDSPwQVWiYssNvJu3s/L7gTiQSBRVoEwzAXTplzAk+CTTydiTFskibFNBWaaQliGMFsjCM+xp//Wg2a4L2tCmWEZDxhqyLFX0v7dGX/Zlh1Uhp2Tq0NEfjaatg4w8Z5tbASHAQcxZVhZJuCJBhSptMwnwwbo4ksvV9zQl8aZkT50LRRXIlGrRzarJ5MJS0dGQkKFpJXwe2lwNZO4cavuhFdrjN4dx/H34efQ3saupfx4ZWGt3u/9jgi7+7bQZheE0fZWMpyOy/vGTIMYtsXQnnw5PPmTTvZey3FD+5/mqQyaNyUYPvg08f3H34B/+Vvvocv/vB5rN2wHrfsWsc264Cqq6cLH7j/DrznrhuQSdKBgAEOoSq1FhosUyOWRJUg05HN2FagagUo1RKYX6yYXr53zyZ84n3vxMa+AcQ4INNGDO25rDYq6OjKgcomSqUK4TWB6YUS60f1zL5Ak4mnMHFmAp/53HfwV195FKfGpvDO+/aiO11DpbnAtFmhbMd1tp90MoE7bt6DD777bvQzz/VGBPF4J6r1COZmFxFNpHFxtoBCpY6ugW70dOaQ4HNqsq1rFavW6KQzKXuvGkunsTBbwRM/OoC5IvsB01Gd/XiJZVluTm97mpqawsmTJ1/b59rI95X2/tNuPvjBD+JXf/VXce+996Kzs/Oq4shcieR/4sQJzM7OBi5vfXKS9hrIg4WexZUeiq8076972W3LiF2dYPVAJ00jk+lALtuJro4+9PUOIp/volseWbonkxl2LBp2qiSBVoCT5Ignnc4gRZNIppDgfYIj2yTDJegfTylcnIAZRZr3mbTCJ3hNIptNIpWNI5EmuCZj7OQO9IitSCciSNGeSsRo4nQj6LHzJnkVr5g0AwGtgalGwgQe1qjCxGJx0xAZw4BTui4DCp0C/gRNpifNNEbeEQPMKNPXtJerT5krka/L9rCyS9v0xvuvFL79XqRn4uO1U3s8//zCxlO7m7e7hTqym6v5iXw4lsx+LYzueOvbkS+T0vXG8203GkAtzR54cmx+CsQ20myhM5vFpz/yDuza3IvJ6Tk88uxBHBsZZVtw050Vlmfb5g1Yl0/hkR88hEPHTvGBxDnuYimsTTWRbNaRIr/K4gLiuQ50d7O/pIG+zjSBKI9792zFhYOv4OEnnkOhWGNFqp3qWSU4im+gyT7Qt6YLuUQVm3qyhEpWiztGB7fdvBcff8ctiFZKePn4eTxMrbVONEvG04iTT0IiQwM7Xvv6e3EXAfnws8/isSdfRrXaQL1URJTteoCgmGgUsHVtF4a6Ehg5ex7feuwFbNu7Exv7OUzQ/mI+08XFMqamC/jhY0/je/Q/cW6SIMt2yqGEzTCs0lWTtEgdANBOpVIJFy5cwIsvvrgEoqL2/tJuhoaGDCDvuOOOpQU8K4ULG6X/ox/9CK+++qppn1ohGyYfpt39rUzXvHBnRAt3FhZMAKngIi/IViIvzDwprBfaIoFulKPYVCprna3IkW6pXEVhsYiFQtGWnVdrHA2zcivVGmr1mgnbKAWHkMk2WlMONdjBpMVppCvBUOUw294zMmvVqqY+nbCQQIoTCTW9WuNo3JbH015nibQTTNuaGxRqSqdOoVRjwFqzYe9WytWyuTXItNqiH+1aAq/NDHXyUl51b3GVrgzdyrUKBUCFGgF5sHzF+QVUC4uolsrIpDIcKGih0OXrUHXVXtdht3YKhw2HCQPg5eKKfDw9O695ynh3H9fnZSXyYez5m0VuvNK4WEE5bMDl+ctlGfx8lYQBURROV34i7+/CaIK85Rbu9LuFO0YuekDhhTva3uP4XH+i5hQI/R1bh7Bn8zAGCW47Nq1DIlrHS0dOopXuwL49WxBnm+rkAE5QuGnXLobropAbZzn68dLh06jGErhxx1YcPXQCzXyOgLsBG9cN8DqM4yfHkOagMp5sIT88gN1b12NufArJXB7FYhkHjp9DV28ndu/YjOGhfty4dRPOnryIwyMzbPegxpDBzXvo19uBTevXYt1wP86fHsPYdAV7t6/DoaNnUWglcNPOLZgaHUd3b4/t/+xj2F2b1+Dk8VOYZfves30Hhvt7cPO+7Yiy7fewPN96/BWs27QJ63s60JFKY7Fcw4EzF7F77zasZzo7d2/D5jUDODd2EXN1zRSpzSw/4+tCfPaSBXrtsWt9N3av78TggBbu6FCEtzctUB5LQ5MCcfr0aTz//PP47ne/a1OmX/ziF/Hnf/7n1vfvu+++IMb1p4mJCfz+7/8+vvzlLxsoa/HP8ePHMTMzY7Jb/VIarxYEdXR0BLHe2sTB3BUk3GWoXqvhqaefxChHJ5RtrxFauvd2XZeF1nIYP60o4abRfpQAEedotbBQIjiWTWjqfUwnK7OLqn5HZwdqTLcwN2/aVjaXYofOQceIaSqzVKnh0MFjmF0oGHhlO3JsLEkqdzVqj3GCbRlz8wRbKXxMSxvP1QF1Eg5hjRVBQK0R3KjRlaX3ceQe0cbuepWhNEXE8DQCQY2AG7UqY+nMSdZHo8o8EXSZlxgFof5qzapt3I4nkha3TpCNRij2KIM5FEBK84DlImJsODphp49CPEvh1ohQrNs7TVdfnsKPKWwXeYAQhf3Cde7tIqtzuoXdw9OvsodBRyQ3dTBv9xSOF04jTOYuY+nxQjd3Tq7aiYvv02NNL+VLf1Ya/vg0fd51r2u47J7kblcaDZb233Qz9uze6xxES9mUQxNHj53AH37uEbx4gc9MWpvzvK5k72I1QuAgqzMXw207tqC7I4M625jSPzk+i2x3N27fswGlGdpzWeSpJV6cnjVNb5rXPLW+w8epacWT2LtlECMnzqKRSeP23VtZJg4gOUI/oXeOHT3YuXUQ8xyAVUoF1AoEfw5AF4sLODoyia7uPG7ZtQ2pZBJlhrl4fgInJudR1WNiHnds6sfuDUNWt5MTUzh4kNpshoC+pQ8nT5+BNpzsJjCPXriI3oF+7FjTi5mFOTQ5GpR2PMJ0btm1F73sfxepTYxMzGLdQAdePDGKYYLgZoJ0mYA9WSzg2MUpbN00iL2b1vOZtnDi0BmcmJhmGamzsi9dT5A0TlG2LTYlbVv5+F2b8am713FgsgeJxNv/WLrz58+bFjcyMoIHH3wQhw8fxtmzZ02T9PRrv/Zr+N3f/V2TpVci34dWonA/931VZO1lchL/5t/8G1y8eNHcRALDjRs34sYbb8S73/1urFu3Drfddptpqm8HumaQfJogeXHkgr378xRm5SuvvUJFcluyS8gRECWcKpUmihxd3nvPPRxpdLJRR5DNpqFXejoeTgKFkoYAmLfpyhoBbF6gSD5acHDg8AlcGJvAxMI8SgyvWaG+rg4kCJqLi9Wlo7YaTFsyukgBoSPjMkyjgwA1S83u9PgY5qkZJtjBOzIZ5Kl1SpA3CBAlAmOpUsEAhVmZ2u2FyWksVsoE1wp6e3rQ1dHJuqkjm0yzjG6TtDTW2cWSaZ/ZbAxr+3rRk8wjST77N65BtDCHHIVVR77DPtejxR3607/BhOqQf1qAJGqvwzB4+fr2YTzpXu7tdn/VYhy5q5H7+N5P5O+9n3fzV6Xf7h4mz0teHtTssPJQWgriAVPlt1Kbv3P3ILnMKwTycgol6/Og2QGB5I0330qQ3LMcRqrEUiSB1HH84WcfdyCpQZflIMTwOpArk+OqGQpQ24pEWV7e2yEcbGeEObbxmiboOQDT6TbyVbn5fFnHmp9IEqCalPI61i3JtlXnKM3mMaINxBqarleZCXV1TfMzGR0izjqPaxW20iNYNjWdWSsbYGigpxOgrJNZ5uJMp0Qs15yKZly09UmDQW1zapC/0+9q1A61WE3H2qm6pYBHGxrsME1WoY4r1Dmw0uX1bl6DRL2Pr7Nf6mB1LQRoMX2V245ppL8Gy7EWB5p6BKwT94zUu3X15J+L3Lz96shCM5oGuToy82MGkmuxjwOoRDJjYd7OdO7cORw5cgTdlE8CTGl10uLkpqumXH/zN38T//pf/+ulPn89SX1bafzBH/yBTbWuX78eW7duxe7du20byQA1dgGkVs3u2rULw8PDQcy3Nl0TSGoU8sxTT3HEcu4SkBQ5wcZGSOOFriicjLnzym6hm8AtgmKpijXrN+H+++5FvVLF2dFxgmECWev4NBIg7HAVaoHzlSLV9mmMEBxnqF2en55Ci5ro/FwJIxzNzhXKiDLuujWD7BAVgpk6uI49o1hg/Om5QvDugwKCPDsJvAuFBRw6q5Gy8hNDmtphRyJDkGXeqPEZIFJ49Pd00/RjoVzC+Mw0BU0DA339SHGEP8E8Szjls1l0E6CLxQobRQmpbAKJlI6q46A8nkXhwkm8e89m7BkcQAeFR3cuj1gqiWpTCylIGkXbO031aoEkhYW0T3kFdenrVtRez2E/Udg/7Kf7cBxv5Oa1RB9HxpPs3t/bRe38Pa3EQ6SkvZN4hIHaU5inOrf3N3dWtnmxbsJxRA6LGriZILmLHXWZlFdFkqkTJI9Sk3wKL54vU3ZbjTscvSL5AJb4kpU5Wr4PE52lwXhqD8FS8NeBqCPd00U86ejryLkrFYWU0QFwcqY9CGdWv32CN/qzrTDGgylZUDmwJlzlWZ1aHqwOnZ9vb+ZstwxHi3qvK6fc+edYBC6e5BOUKvAQOLmrfOkoC9OVs+OtgM5ddqXi8hmUhXZCvS6kgKm7uTpiWsRxx7/awEfv2oBP3TOM/btuQJQgGaT+tiVpjdLkbr311sDFTcHqeDm5CywFUj/O6VYB4Je+9CXTEjdv3oweKQ9dXVQQljX15557zvLxMwGSF0fOEyTpYB3NkRdmJsACuxdqnkyb4L1cNF2pUafuKf5w4y23Y4CVVyoVcfL8OOYJMjEtbklyxMlwE+PTOENgXKRmViguGlDNE/Ck6aW7epHNdDEuNQKOpA0U4xFMzoxjrFhEMqd3nhyU0216Zg4JgmounSf4VlFYmCMQVnBuZgaL6p4cGmuRQjaVQTqRRGFugW7MLONWmWY+kyUocvQvLYflkAZZLJRQLZZMG9HIOktttFnmyLmesL1vXWu6MF0p2DL9SHEG79q8Du/bvQtdrIiuzjwqtj9M71qlGWo4zrwGdRgGSV+fJthoBByqU7n5evZ1L5K9HXzCYXX12qjIhwuHkZvn6d1EYTcPYN5N5O89AIb5ye7Dyu7vFc6Drigc5pKyShtlPTv/ZaAWycmeS12a5C0cua4Mkmp1R44fwX/43BN46XzJNDbtz5NGc3laLn+Y9HhW9glSu5znFUj9gyW1+O5X4CESM+diVufoiPfWVkNkeBTYReEosot0r7S8vZ0cwPDfAIxk6SzzUm2+hszJhffhwuS8g3hB+14OFZTvEvJpeI5hem3oMIm9vnBiXy2q1h1I3rUGN+7Zj1gizdi+bt+eJJCUBqev3lyOfP/xfep6ku/D6oeSvZejZ555xrTMNWvWBC5vbbp2kHz6KYxevGAHhr+mqQYPwFeaTPh9lvzlZqsPqQnUqZ1phBhLpnDH3fehRMlwbnQCz7x8GDOL1N7KZcxyNGRfhqhTiCbTtkq1RFDTe5QGG3x5sWL5SmUyqGqlaCNq7zQqBNv58gIWmXwzHmVHZ1iCnBbNpJn+psEhbBjspbZZRrnWwFmC5Nn5RdSp9mmaqqK8RajNUqNk5qnR1rAwO4tIrYK11D5T1EpTqQTqHJnahvgGBTCFd5qArKmp8gy1yHocyWQE2bVdmE8AE1qQND+Dn9u0ET9/y02ITU8jlY5jHiWGS9m2Fa02dIKNBVQdWi27em1v4L5Ow+6+3r2bOobIu/v7cFwZ3Xt/XT15XnJXR1M439n8Ve4i2X1c2f29jysK8/e8Rf4q/p58fB/ek9VJ4BT2czx4zwqs1Vu48aabsXNX+FNZCiujVtfEEWqS/+F/PYKXLwgktYCD9eBq3rNfkcL+3i7jSkCiZcm/jVE778vds+R274h5snLSdYn3SkDiXF1Iz2fZLtJV2qWP6/HJ+TuePqzIebt02TiDtuncrB6tgOEYy2Q1SS/zdZGWQupWOdW9wNeucrTwiulLojBK37mwhZi74+O4uGj6Xebp7MvpWTyp9LUqQXILPnn3Ruzfo+lWgeTbm64GJEW+r/i+dr0o3I+vRD8zIPn0k0/i4sXz9oWLdpIAFHlhqoprB0kvZCUKG9SeEgS2TC5vIHng2Ek8d+AwUtm8qetJhqtVSgxXR5qan6Zg440WAbKJGjW7dCSJRJX86F+jjBuNtfDMq0cxM11GnB2vXFnEBDVFrTJNZzsxPjaOwswUNvZ24pbtG7G5r8sOX9bq1zmC3bMnT+OVCxcwsVjAoqZ4CZB9PX3YsHaYnS1KgC2iPj2F3/2Fj2LLmgEWSsvZWZlaDMSrPpGVTjphy6ErEjLRBgrRKorpFP7mgQfxnUefwDv27cLvfej9yFBL1Z6zmeoCiKesC4KkwxIjX1eewg2xHRy8n3f3DdfXeTiu7N7fk48XdrPnxLg+rK5+RBrOl+zyU1hP3t+n3c5f956vN57CfMJxw+Tje7+l+HwQEpsVavgCyV1auLNECkujC8MdPnYc//mzP8QBapKtmBOWOhlJ8ZfIwjpLEM2uPp1l/8DeblX+fN5oFZflsppDED+g4F7xnLPqUa3PvQNs6ZQcBQoy4kBuOS+658W8nZPn437tnoFsoMow7uPJji6JI0YqI6+uPugZhFU8O7GKJI3Xe7u4Lpi8Bca6N+OCWxirEzku1UNAcjNmjjSUCRxZetaDebE9uciBDx0tr3ZDcn6X2jxpsF3Gh+/aYUC5Xx9d5uC0PdTbjV4PJH0/+2nTs88+a9Ot/6hBsk4QeIogOTpCkNRLtsuQWEvQeUGpe9n1nLRwQ922RmBDs0HwSyFKFX1wzTocO30BFy6O4e6bb8TWtX1IEoS0LF5bQLROS2eoJso1WyBQScVQpebX20yiM5fB+YVpzHR14LFXTuLMyDyS0gKTUSyUCjhPnvFEHgtzBRaiig19edy0Yz12rh/CxLlzWFhYRCOasNV1PzpyGCXtd1TnkRbJTA9I40xmUCg0UB4dwx98+qPYNtCN86eOo0yNVXsytTK1Ua1insA3tHYtzp8fQzpK7ZAaZCyfwMCW7fjM338TX370R7j3thvxb3/x4+ioVBClhrzIjluPaDVu5pIG3V6H4YYevvf2dn+R3Nr9dRVvD2CepEHrLhxedn/veYq83V89n/arB9V2CvP1Yf29t4t8XPHxfiLZfXjTUhVc3pTQcm9yMHXDjTdh5yUgqWCMw7CtVg0jF8/giZdPYmyRHoyrBSdkSD+7uPAh+yVEDxP85m8Jm7OR9wvIgYwnywH/lGHllRd6K4Ss7kc8pesyVEQzI1r0ooEDn5sWvvAqALE6srR5NaAI8/NMlZ4AR+ViPdFNMx/BfLXFtSj6cTa76te5iWix/JAYz3IiJ13ltlwRumsj8XelVV703VaFclB3ac2EOJJc4s6Fdiuru7cyuhoIknYeZqVpr2+56Ff7mlVnG/qy2NAZxf79N1Eu6J3k5WXZ24GuVpP8adPPDEjqnaRNt1J78uRZ6eqFl8jbZcKCUkCpkX6CYKQVpoulsi2oaSVy9n7v527civrYCQx35rBIze/0uTHU00ns2bEDc+dGkOjMYu2+HXj5yWfRUahj0/AaPHXkIDbc/068eHEBJ8YXkU1l0UmAWlyYcav0mKVa3W2zSBNkBVSolfHKgRdMyLaiSTQTacwWK5SWCf4nCJwpFKslzC/O4GyhgkIkh5HjJ/H/+IUPYSdB8oUnn8DM1BQ6urqxWNRXDuqYmJ7AzbfcjiefeAa5DLVf4uzQ+mHs3n8H/vbrD+EfHn0Sd95xE/7Nr34MiWIB1aI+gaQVgw3kstklYAzXo8jXrchfRXL3YOfrOFzv4Thhu8rs43n3MHl3hQnzURq696Dl05F7+BmLfLjwKly5ebvIx/d2uYf9PE+fXjuF4y9Jdd4z27hh/43Y0QaSXkeNtqo4f+YQDp8+i2pEZ+EwLQpbgZKErsldstPVyVkfM0Q+jOwtN8AwoiXICS0W2f5fS/Kj8Xz8VV60MEcGJjG2WX2HUUcXag2sgFLhliLqyosloXiBm+7FxdzJPM4yaEVpU/1B9Ros8mFp7RpwWCKxkV+CKqFW1XK4w3jLW2XkZ0n5SvLPh2W2Zx38yV+L2qRB2or1eo19y62cdWnLU/EU2VuMuxz4XJrgmNhW3tZ0hKTe3Tsv2llOl4S7Kq7lQ7HJQ7eyaw0BnRssd4yD765EFHfc9Q7E4jkL93amVZD88ZDrHddCak8rtKklQRWQF2i6hheHWDO2OUUKHQaxLQHMTqPWtK0gYzMLKBVLmL04ilqhgNL8HDqpbW5Ztx4pRpm/MIaF8+NIUrtMlBuYOT2Kky8eQmu6QM1T/ChMkzEkcmkC7xTW9fbgHXawcxS9mTq6Mw30dCUxMj6CF199FfPlChaZnyKFgLaXDKQzGIonMNiIoLtcRT/BfHM6jU0d3SgtVDCzUMQCBWw1TkFMDTKaz1Kz5eg+lUYk24GS9kumqEGmc9RE6ZaglklNWafqROME4ib9I3GkkmlbsBRJJez9p7anWMcO1Zs3/n4lkruAZKVwsoeNB5QwqHq/drqcm3f3cXXVy3oPZmHy4cPxXs/Nk79vB+kweb/XEuNp4PMaP7U1QQ9tFNBlPuP5MrBQT2G2lafJYLYpexJzNP5qRu5NutE4ewpzDQ6qmjIuzmwr4UwzwTAK5+Iu+dF9tiE3+sutEfDx/ELXBfJeYNhCYJDoQI3x5qsxurswy3kL0oFLy/wYZ4ZG6c3Wk2yzbIfpTszVQH/lj7wYb57+ZoyH8u94WDkbDEPTSnLwWo2gUE2gUE8zPzIunqXFdOegPKmMcZcXszMdC+P4KY0Gec0zD/O1uEuf9efymzb7vOxm5JcK8scBK8tfUflqMeM1QzPbcuGszEG+XdoyCYYJ6pnhZuHSWdDCvkwnkjTqi2xlrmms0iq10TWCpIQOkUjC9rIC6rXkBZ7knIzb+0fD4WWtWkMmmcF6aoOLc/MYHZ2g1tBClqN7TYNo11gnAWXDmmECDTUgnZ5TKCJSqiAd1TpUCpHFGlIUHPEIAYdgNz47hYuTF5Eg6G3ZtA5nzp7APDXKWl1fgq9jcbFg+4kWKzVqr1T1qDFqSXylWgEVSgKYjkDjCJoap331vVVDf74DMwRirVAVoOkjxvogbiSWRI2AXdcns2JpVCloKhrxq2wsQ0OjdcZXuvFsiqCaZlpNK6M+pqv3mVYX9Ne2BvVZ1esyMMgsU3ud+/swUIYpHN77e7fwvXs+yyZM4u3NSnG9e5iP99MAycdROJEPK/JhdZW/jy8TDtfuJ9JV7kvH3YWatU0dB+EcB5FAMkR8fohlEaUARoJafCrHwU7emaSuvLerM0gxHE0r2clr3sLLIOXuFWbJjWAAxpUxd93TPaKwySx5ZIN44kcTvtK4vDi3JuPHeB9LcpDl3RlXfg3jT17k3+R9XTzkZnlkGAufYboZJBk/Emf7s3TyHEy68jYJnk3jp3ji4/KsMoG8Yxyk6gjFZtqVT2EcX+VN8eTm4kTorvw2GU/2CO0txnNhWQ725agWSQV5cGGVZ+aBbrp3ZQ7qiEb5ifKqAaftpyJfqzeGdfXs8ux5uXzr6vxaiTwadt9FPh2Isy6WP323Squ0Mr3p1rEseBy1Cy9/lblUIDrtQIBAMYZGvWGrTvVuUhuOo+zIOnIuVo8gzlFgpBHDyMkRnDl4CqWpIrrT3chwRFiZKdlWjaHBfmzdshlZam9N8pqZnjEALFLjy7NDjo2PYnRyAuV6DWUCclkrYst1W/2od6HaduGPrNMRcrOlMqbKi5iulVBElcBMmI5pQU0LuQw7KvtWpVIy4awpWZ1o0mzFCZ4ETIK9DkfQB2htBSG1ZB1srRN4dMKPzpKVRqk9fBonROiuw9i1aFqHGwgsfd2JHEgsT7+GydetpzCg6LqSf/je+/s4/t6H8VqagRBN2C1M3i9Mnkc4rHfz5MsUDiNADfML50fhVuJrROdwWPHQFLu9d7uELs2DPQRP4vkaE3K3PRm6so2yHjS/Z5uAzC0Iozk/vdfUlCDTsnd/dI4yblTuFkZ1KD95+XivNe5iIZhtDqgYT7MuLCSTIY/g0Iolvqghyjaqj2pY/ZhR+YJ6oTXGNqYN/W6lqI/nnqmCRvzKaovHgRwbcZ0O+lNpdXVFpS1II6K+HJRfTnYEn+qK/aHJAaJiOj/FVjhNIJOPOdOmdPWjL+ZoYY3Vrdx4axblhHxY7zEONpUzc5SfhZVLcA2M5c3yoJQCCvJnDrRYU5FZpVW6DLVLj6smE0YCOF2tpTm3S8m3wKUmamRtVw07sNshARSM2vg6MTlpW0LqdXYWrekpqWsQOKnaDW7cijVbdmBkYgZz1SYWqDlOjM4QrNjp00n0bV2H2WgdVeZrcmoO8/oSATtorVTDxYvjTEyATKHMq0410TFyyr8yIXCyo9Jot/wxz2V2yLoOL4/wWqsSAFvoHx5CZw9HqBRQ9VoFcQqQGIVwjaploxFl9yZQMkqRAByLctTP0WsyRi1V01VNHTAmQKX2yWT1KRoDHPLVhI/0Ze2H1Hs35UBZU53a575owvWr+grft9e97peEWHDvjfi7NJbDrQRy/hl50PL8vLvnFwY6bw+H8W7iI/Lh/PSs1UEorkh2kdw9D3+v8D5OOymshLDx4b9C+HCh2grMa+m1HC8lDXpk/D5EAZ/n50SxjOz6EwDJj3nmnXcX6YQcH0/P+g2TZVQ/jEskcWDi3l0KyAJYMrsDPN4JSM018GNU2dyBAiLdWe3Rarm3e7kbmPLO/hjex/C0FM/sjpP7U39zzz0cx9n5DF3GGUrh6G6rilUfPq+6qjQ0vPVlY0Dztzi06dflkXz8nbF2d0YqcDut0IZ+1milfrRKy6RWdU1kHYUmGhJ8um8X3qLlZ7D8MBwg0UJhp66kaVt9Pktf8FgoFlCixlUmm1ZHDqVEHAUCX5raYi2fw0IyjnW378fgjbsxTSat3l601vRjfrALrW1rUc2k0dJ7PxZvZmYeZQJYi1qe9k5WSwTDasO+r1deLKBaLlLzrNiqwSRNglponCZCbTMmoK7UUC+UCIgNJLq6mZ80Tl44iWJxngKyhSQBMp3Q9/BiSFJ7TFPbTNKuz3PFmYd8vgMJasXSQmORhE2v5jrz2L5jGzZu2kQNmvlReqo/GoG2pmStCvnj6pVWlt99PNrVs4zs4Xtf72Gwkb8o7C/y995fFPYX6d4/Tw9KPl7YeAoDlwc1T95dV4UL2xVWgOl5eX/d+7K0G0/he3/1067ioynx5RJeD3JgoMUmzZjqo4W4Bj+89wJfYQQAphFR6MtoJkLA6AS8wMzVz7KQvzqyQanZGFGooal+JSetUtwjKTva0LZ02IIceV4KDm5lrIaJrt01ObCTW5RxIsynGwA4wFFU+8CN2MiIrE79DYlWKw/LxQoxo3pRntiaXYAgnOU9FNV9kzUgqxe3IMnSDgYSGj7qKs25qYVL9DPQZ38VM71XbkTiTInhLO/eiLcMeSn8Kq1I4f6kwbO+96hDyHX+qj5rderUKTsPdnp62vzC/XwlupLf25Gu7SsgjSYr7QIKCwSKoIK9sJJpryQLIsMOKLsAUg9jSRgKAOimr2dotevYYhHFeAw79m7E5vV9yPZ0YKCnB7l4Csim0L9uEDlqc92DvcgPD6OaJigSjOp9XejfsgVFdhZ9/V0TsYP9Q0iQ/z133GWa6vkLIyhXqiiUiihVy6gSkGy6lABXI3hWKg0731WgqD6YzXYzrxHM8z7W34+XR0dx9OIYygtzeMe+3RjKZuwEnr7ebnR3Mv2+PnR359HblUMuE8PQUB+GBnuwfrgHnQRYvU+pJVKoEEDX9vdifVee2nKJIKovlhQ56KDQ1T5Q03KD93isM9+QvYhspyV/XsNG5AFIvPyz8VrdSuTjCqDCzzLs7u89T+/nKWz34f01DILefilP2Vy67v5S/t7ujc+j+ctqV7YxilxpScPU/vv6Ql8BuYSamJmexPjsIpp6T8eois5f812JJP/jCQ6Qku6bqHG2N723jrCem2wrgh2BoW1ap914MZKmONN6FjGlQ0GvwZD5GdvLkwl4ifom8hyQNTioKwkQ9C4+AMIG05ItzXaj9qN34FYtBlYKoYEDo5BHNhGxL3A0tR+X3vr4d5oDT61Ut9OtdGIU3dRHFUep61VBRzKCOttq1d7da+5DFIAQSbMq+iiBtmjpIH+9k3BTw8pIUAyGVg3lOK6oUOA2Yn5/Il1ZJw6gWxx0sn4TAm7WLd31CTs9G318ukkZUeKAV5+XEzfVpcon0E8znN516kMGGpxYm1jir3wohsVCjuVJM88DA8NW5rc76Ui4xcVFrF27NnB5Lfm+5EnPWPvex8bGcOzYMTNnzpwxgNRRdgJLGdkVRito9RpLX/VQXMmWlRSj9vswCXD1fcq3y1dArgkkGxRs9qms+Xk2NifgwpXi7br6RSgSFs6dzVMCjBXcsPdvLpxeoAsk2axRY4NtJlPYuq4fa9IJFAlKM8dO4dzxk1iM1DBXmUcsHcU8Nc6zY5P44Y+exTMHDmNkcoYPLYN8Rw+eOXwM52cXMNA3iK5cjsBYQrFWwd0/dz+GN2wAUmmkqBlWmKV5pjtHYJym1jjNfM0xD/PsT9PVOqrJNErs6DPULM8WFnF6bh6tdBZxluHGrRswlM8SSCkU0nFkUgmkMjqsPI3+3g5E402ku5JI5+MEyBTSBPhOAu1xlueHTz+Loe5ObOnvQYSNVGfXGkhSuGhjs96Num9uOgFkdclrWLMThcHF1ePys/Bu7UYUbthhd0ft98vP2BsPTCJ/394OPIXjiVaKG/YPk/f35Qzbw+G93XQcjW4CcNBU9eDQMAcv1wcktWgs0arj4rEDeOQHj+HAq6/i2KEDOPLS8yiVge6BNaZQKX0JYgMQApbEeGtxFk8/+iiefuYQYmx/vZq2J3Io5ApFDxH97Y+CnSCpaX6tntZ2JYGeyqDtHIlmCRcOv4jHH38WqXw/Ojrz5C1NVjz4vFklUQJHR7yBQpkDQQ461T0r0xfx5MM/wNPPv4TjB1/FkcOH2VY70NXVI85BWQSSUdQ4IBRItjiodGS5J3cK27kxPPSDH+Cl51/EqSNHEMt0o5OD24itYvek0C1kk0yXFVaP56xO5eYrgUNIjJ5+FQ8/+BgOHngFR195HiePH0euYwBDPV1o1Ersk6xR5cGAleDOfEYqCzj47GM4MzKL3uG1bCeq/+AZ8Ff/oqW6FEiybD9LIOn7U7FYtAPQjx49asAou2byent77YB0nb2qs1X9Gat9HPzLT9+V1GsixRfYCVClYXqwDM8IXY7ebiDppM0bJNWBhHp45eDlSQJRQtDZ7bR/go6JySCuhJ7uxc96Mh9iaW7BTtFZGJvC6ZcO4cyLBzF++iye/uHDeOw738czDz+GR3/4KL75lW/j1KFTmJ+Yw7Q+2DpLrYwdSHsNs3wQkQwFH0fMcWp3N77jHmy84Qb0bNmK1OAaTHC4eZjA+uix4/j2K6/g+8eP4mitjPMcwb7A0dOTHAg8cvQYzXGcLVYxXqaWmUijxix2sfM3qA3m2IByA0PI9vehi/beNQPUcjuRYaPq0naVwX7EqOGCGmOcjS+SzWGeI+jzF89zNF+0Q9P1pYpao0attmF2VoLVK6shINaTVZVr4Gaj/+Xq3rv7sLqGjQcZ0Up8/K13D/t7HmE32cVzpWmYdt4ihQ3noT0/7VcZn+5raAV/d6XgpvC070NeEi24WYHVCk6vIUGCgOb4Cz/CN/7hy/YuurMjgdOHXsTnP/OXOD8yzvxQWNCkbCWpVoSmIDibvXAaX/n85zHNNqdv/ombtKvX1tAyyW9lf5ab8bVC2soqjbJSwKMP/D3+/D/+H3js0adQDzRQR0qLhjbFUz8z+OC1OHEO3/i7v8HR42eR7+zCiQPP4Uuf/RvML5QIRJqadc/Ha2Luxl3ER2BUK0zjq3/3WTz0/YeRpEb60pOP4nN/9VcYn5zjA9ashfIpUtq6iqfK0LQzkHXilI53TOnK4CdffQ5///kvUhjXkaPa+aMfPoAv/tXfEggqpr270i+XTdO6keoCHvvu1/Cd7/2A/ci1UaXqSu0z7OjSu58d0gePBYxPP/00Xn75ZeuzO3bssL2Vt9xyC/bu3Wtf6Ni0aZPtY9SXOwYHBw0sN1C5UNh9+/bZIeqKs3PnTls/om9X6rg5Tc1qStbTin32bUbX/NHl0YsjNmrx063tJMEnLUjeklNeDgoDqKyhofkQ1p+mZkyLZGUKJJOJJI6dH8XFqRncumc7BgguvT0cwVDr0xRkdbGKXCTNDhEh0ExT68xgy+69uPveO3HHHbdg7fCAfZZHU6JzGm0yDgeM0NfSL05P4bsPP4Kvfe/7eIgP9OlXD+LYhYsYLxQxWaCmSTWiY3AYkwuL9mmtfK4LGzdsg/TlU1PTmClV3V5Kanx6Z6lPaS3U6nj11AheOHIGzx87jQvzCxgtFfHCsZNM4wU8/vyrePYVNsrnDuCZF4/iRweO4dmjp9DMpjFIoB3K5ZGPs8tHW3b6kOojmdC3NSVYmHF1dg5IJAbCU9thoNG9J7n5hhkO54EkTLqXu/fzdhlR+72o3U1XH9enE/YLG59fkQ8TjrOUB/NZpiW3IJx3s/qQKiQnFs3CBcbeSyogm9kgtbs+avCOVAeOhy6CiukZp0k2qEmal3kHYdqJzvou6OmDz+D0WBk//1v/AnfetQ99KeCRhx7HwNYbsGPrWlTI8/CBgzh37gyqEc0ycOD14DfxwouHceP978UNN96IhJagimEYfFYilcn+mtZWGhzIcShI5zgaqlJGT/Nn+vwhfP+b38LUXBXaknHTbbehk+kKJFgjBqjSuPJsW8Vy1fbtqvrKUxfw1JPP4cZ3/hN86lMfRqYySY3waey87W70coCnT3AJhHIpttEyB3PUYFvQe1hVRoO2Ko48+SC+8o0f4gM//9v4yMfej+5UA9974HvsTxuwdetmZtKVVau4VZIs81ApL1qxR06fxvEjRzHGQenoxCxS6QwmT7+Cwycn8cnf+Je4+77bkSnP4sHvPogt+27C+qFet86A+Vd846vp5+oMXnrqcSzEB3DXXfcY2DKD9Fa7sou1DReJ9ZD6x61J+v4kEpDp/aIAUl8FEfAJEAV80hI1aLvSK5h2UljF8VqnjHBBn+uSViqNUpqi0g/nQ/QzoUl6soYXKvxrSZ3fk+zOaAWnNvvbPeP795OqTFX+Ih+ivtZv+yzSOSSoofXcsh8b3vdzuPUDH8D+O+/Dne/+AN7xkU/iw7/yq3jPz38Km265AfmBbjSTbP6pKNIdaYKqvpQ9ipMjZzA2P4tnXnkVTx54BcfGJnCxUMZcLYpKU1tOKOGiWfT0riFIcfQfyWD31j3YvmEnsqm8fYOvwLzN12qYoBYQo5Do6hvAeKWBBw8cxYOHTuI4+T1/9jy+8NBjePDoGXzz2Zfxxe88im89/CK+/8gr+N5Dr+JbNN9+5FUcPjWG7v5hdtMoy876IJjrgHRVh6ay67w2NQ3HNG0UzP/LPSjVv38GCh+m8LPxfj68jAdQT979Uvsy75X4h+OE/cN+4TCe2t2spJYcy23AR3/lLbA36K+6URhvmHmm6dIVYLaDdFt2rws53cTlS0erVdkmdPiFPiKsz1PFCc71+XF898ufw9f//ov40Q++iy/+9f/CqXOjGB8fQ7FUwbkRXhc12nb5N37XRCyrVqwStKORCrXZQ5ivpvGu978bixePYWxklPW0LPwNi3VlGfS6IN6UUIyjrg+Ma2qysYhWaZHaWw2JTDcymSw1VNZlVFsuKOhslaqeFN2MmdwIvgTtV194EbFcP3awHzaZ5rb9t+FDn/gY8lkCql6r2HNSPOVAcesE1xrOHzuEv/iz/4EfPvBNfP5P/wif/dO/xOSUtMWE5anSqLE/xLD3hr3o72ri5MnjbAcSusqFe84it52FFDx/zU2pVm0xnNIOXCzvP2Mk0NLHmPUuUeB41113GUAK4DR12t6v3yhp363O2N6zZ4/xzuVyOMS2KO1S07LL/fHNpfPTomvrnW1lVeEvrQAJfnYrAz4KfF7NUMPzYKgwutp9wFD2Wr3Gjq/PRbWwWGtghjLpQrWOEYYd48hlce0aNHdsx3RfP5obN2Eun8PBySm8Qs3xVZoTM3M4wkYhbbCnqxM7d21DJJ3AufEpxDt6ME9+i7EESom0vVuhOKAGpwUy2h8ZRTbTiU0btvLaQcEQQY0dWytlI9ksFpm/qgzzVSa4aWHQdA2YKtWo/aVxx7592NY3DMzWsLZzA3ZsugE7N+3FtvVbsX3zDmqOQ4gZIOcxt1hBktpkmg1KXVpvdSTog/ZEcp1dV6sf83ttY5ObN2HAC5PqNUw+vMg/uzDAhI1/TqKwe9jNg23YfSUKxxHpfim8LnT3rUHy1O2uIM/gqgMXLLTiB2HtQAo6ep6iZXuI/3Uiym3b9hEnECxOjeF7//AF/NUf/Z/4m//199hx89246dbdOPXKM3jywSdwy73vxPvfdx9GX30ZR146hBtu2ovetUO47c570d2Tt7yzVAHnN06GXxw+aFFNpVLAq6++ikiyA/tvugGJyhwOvfQSQYYBDdCYklUk65WooRYh40CDdcw+98JTP7Ip0u99/2Fs27mTWmRP0F8ZRmmxLtUagyg0qnvqpvpeKzWYjq5+JFPsR4yT6BzAp3/t1/Dud9xNGGac4Dl4kNICoSbz+OgDX2V+Mnj3z70D1eIsCsUF1CMJPnuGE3u1EfbLBPtwRy6CuZnZ0KlUxmqJDBaZVweGzsXyS2O/7RH+EVK4H0j5OHnyJA4cOGCAeNtttxmQ6duO4T74ZigcXzz1zvLmm2/G/v37bUHQUzq+dHTU2lE4b28nujaQfF0KhKneHfiHoT/TIK3l0305aQvBjiwNs16vUwOMYaFcxme/8S38x89+Hl947Ed44PlX8JXHnsEXn3wSXznwIv7miSfwP771bfzF176Fv/iHr+OzX/su/vp7j+LvHnseX3vyJRy5MGHnwGp1XXf/IMZm5jE6OYtirYUFHSagbpOKscNp8RDzQwG8WC3h/PhFanpH8fzRV3DowilcnJtm+JIdGSehrYY3NzuLcxcv4tSFc5iemcGte3fhw3ffiluGevHL99yOf3r7rfjNd74Lv/+Jj+APfvHD+INf/Rj+X3/wz/Dbv/AxZDXqj8VRKFdw+NgRmyJhZfBfAwbWjxrdUrtTHcr78o3L6jlkvJsn2dsBUOQbt67h8J5MOAVhLkfheN7efm0nuXs/D64ydDS3MMnF50FhwtNB4mF+vMpPoXxZwjxdei7O9SCdF6rVlHW21SSFza5dOxFtlDAyNk6QvAU9vXlMsW0sFKvUGCdx6OhZbN6xBbmM4IyIpQ+wEqQ0ZatDlkwzvXI1h8gJe0+608IdfXN0fvIijp68gGYyjQujI0gngWPsJ7PzBYaiNqm6CWJrc79AqBGT4GJ89knqwBhctxl7brkdt9+6HxfPHMIrBw/aQQLMtNWjg1WSsdGPDOuXdZ3VQcjsV1Q6GZZtmf3l/NFDOHnsOOostn/1ItK7TYVpVIqYPHcOSdbJcy+8glx3H1MoYnxmgvWjVPXuUUJKsytahZmww/8VV+ku52GZrEaYlt6laghiwVhGLR5yswA/G1QqlUyb04pUvTcUaGmKUxTu165/qJKujdrjet7SWPXeUu8yjx8/bnmpVqvmF07/7UDLSPUGKBiQGkn7kfDyleUr3QQVpYDepxkgsl5swQ4bq50eoykei6Ou7ipN9zpRo0agnCtVcXxiFkdmCnjy1AV85+VDePjwCTx39iJevjiOo5MzpjUen5zGsdkFvDwxh5cnC3jmHLXKc7OYq0QxPb+IM2cvYHJqgYIhgVOnzhGINIObRTwVh2aitMxcnSeaiKCzvwsT81M4PXYBpydGcHjkNIHyJGYWFziarbHjUwKQQZ29Xt+yHJ2cxMz0BAa6Utg63IlkYwHpVgF92Qa6kvNIVUfQWR/DUKqIDb0pbN48jFgujngmhmx3nvXAemLd6aPPzaZb6avvUaoNSQ6odlhLQT05CttFanArNTqFazcePGT8vX92no/sPr6/+vBhE37monAevLt3CsfzJPtSXoJ7bzyvcN486d6T7DbNynB6BxkOJxJna4OhOG+WnFIloavjBbuw69Z78Mlf/g2C5WY8+f3vYebiNOJJ5icdxb5bb8Z7Pvpp/Nbv/T7ufee9jKWBEJlooNQqQfsUGnpvfo3CW6Bnh3xTvT1/TOcPJ/CeT/wSPvzJT+G9H3oPpkZOYuTcCAPqEAvVjYBSi3xoOOKzNsY6sz3L7Azrt+3G3fe/B/fcewdmJk/jyNFTHETqmai8im9PKvjVD7VBmmgih42bN2Bhchyzk3ME6DQqk+fx2T/77/jBQ0/YbIyTA+LBsvJ5CJa1FiGViOPA449jZraKe95xH1JxnWnMdqlgTFOLgFLxFiYpC0anGxS+A7bVxJXGUzAAIF9pi3Gmk4xT+9TWrpjenbKO6O5W2V5bXb9dSP2pUqnglVdeMe1ei2z07cbL9aHrTWHeqn8t9JHRwesCSilJyuPbia4pt66bsGmqg5mDOoAzvgKkwVnnI/k6kZZk7vzz02QWPqhYCUXdN9mhtDm4Fc9hYHgLEtle1KIZO+D4zDSBb2oRi0igxE5WYvhSMo75RAqT7IxTHKwUqhIcWsoQNyFUr+orIx3YsHEjNtGsGV6DtevWY/Omrdi8ZQu6e/vsk1j2/cqBIQyuXY+u/gEkOPJaoEDTkVz1Yhlpjmxz6TxLL41GnS+OLEE2WS+hvjCLjmwaqRxDpVpIpWvs0HmO3rIMq+0qJVQ5MFizbTNi2ZjtZevqGdQHQ4KGI57uHaXJkqBN+yYXbnzebvUfNH5f/2GSn5suWw4XDu9JdtW75xG2e3+Rjxsm77cSycvz8ca3D58nGb1rFDHEUhhd5ceL2c0/uIbjBg528bxF5sfgDOWr8rqQjqLT1ygEHtVaC+VqEz1rNuLd7/05XDjyIh586FH0bNiK/p5OHDn4nJ0X/LUvfYNaGTUqFrNZU/wWjr7yHP7Hf/8Mzp4fNwC5Ii0VYLkejcw9gkphFk8/8Sw6Btdj1403oXNgLfbcdgvirSLdH7fjF7UwTEBiMQOw0h5LHSogVx2xOHH+DI6/cgAvcUAaS2axdctW+rJODVx4sfq0H+Kju2pzf4N9c+ct96K3M4EHvvpFHHn1AB554LsYmy7hxttuR4IDUjsxyrQ5RtP2FXKOJTMYWDtIDGti0+b1OHv2HHr72EfXrEGNg8ViaR7jF5inQy/jOw88hCzLtX//Hmrgyr84yThSC7JS6djJ6XFcPHEE56jBXBwZRY3PSH1L4fX3j5UkP/UO8ODBg7ZwRtOe0h5dP/rJl9v3Ty3q0VSv8iag1DTsTyM/10rXtLpV7xpHR0dQWFhYanaXdF4jdSd1Sxs/895NtUoeurMaWzbKV2QLqdGjprLoN1OpEfwyKFKgZFI5dGU7kWWH6uBVCw20QCKtDfkEnihHnh3d3Shw9KRDAKSJ9XR0YrCvmw1FL5W135CCN8E4BmBJA71ILI7OXB5r+gbR29+POsPoTFetuErFkuju7mX4PAGa4JlKoSOVRzaTRUe+kwKljnKpgkQ8if58Fjds2oD+dNK2rWhRjz4erRHt+OSsHW5eYCeNE4ArBMmZWgmNTAJT87MYotv6fB7d6QR5qU5YV9RWUwTsZFz5DoR+ULfhOtZVjTAMaEugEVD7fXvc8LXdePJ2hfNhw+Tz6N3b43rTTuG8qV1YmAAsfHgXZhlYVyKFVb2pFfm6WCa2PLaHwQH3jL2beBrZpYnp6UmMzS6goe+ZKb6580eooPtLrvJqYobPuhZJ4waO1LN5the2tyKBZrJUx82334GNFAzHDh3BCAV/tR7BvltuodbURKkcx+79N6OyMEmBcQo7996I3t6OIFvtabE8S9XEemRe8xybNWpVlHSCFAdpgrlFraQ9fI5a7Z3YQxARpqU4cKyVy+xDMezYvZv9SB8K0GQkbCq2WK6gGdNqXg5Iq0VqjjPUPGoYO3uGwDKOG267D3e/8+dshajTIgEW03jWdKqPZodIAkmd09rZ2YPhNf04cfIEzp0/hbmZMu7/4Mdx8123qhhGSl/VJ5tW6VYKBYyz3qvJJNilUavH8D5q3tu3bcRCYRLTc0XMaTbo9FEK1ig++Kmfx037dwLVAoqsU440jZtIfCONKjXZaQ5I65gcvYiTJ07aiVsaEKdsy40CubKoLjtSrAve/2NZ3SptTds6pDlqYY5flLNS//tJkNL1aSsvei+q95N6T6pVtX76961ObP8haXWVpLNWX3juWUywwBoFLwk5kuyi8H2L2pjOZNQh5vW6BBc7poGkE9K0sOdH2YGpFbKHH5qg0EIWIzMFTE1Po7uryzp3nOBRpyDUqDTFxl1v1bBIU2X8sYlpdqpF8m5h5+aNGNIIqly0L3kUS4tMj/lhR9B5rGXGrXA00yhVMdzVS5Dtwny1gqMnj7OjtdCT77LtGBUCeyKfsfUJKQqkKsM3KHTL1SoFYhl1guUGCsdbtq/D7VvXAxzRS5TF0hnTNkoURNraor8shdTMYhHPnz6NhWQeh86cRsdCGZ++7Q5s7utAvFkh/FPgUGBlO/LIZPJIUtukBHJ1GdSnyDd8XTVi1FUAofel/nHK3xvv5sFG9+FwonCYcByRPUPeh0Eo/Jy9m6cwf5H3D4cL+4vsyD16yz3M0wVzYX2c5at4uqtKxtzZDIWPr/rQ1Pi+G/Zj+67dFqedWq06Thw/iJdPj6Ka6iGTQFhKmCoZZeOSqzSiJurVOgV3wzq/G+yxXWmgVm0gn8vZXENhoUDBz7aazSCTzTIvvK80OQAiKOrY/FoESQ4Co3EO7pT716TFf6Yli96zxVDDYCaK+uI8ppoZ26erDzHrQP+KBm2pjH0hRFGj+uIM81Nmf0szbfU1ASpbCwayYL+aRzndSc7U6VgObeyvavqX7VvT1+l8h51E5eqTuWO5h3IRlGZmUYh1EBwFUMqXplzJg+1BbX6xwHJxsJngIDarLQDkpS1ZKpuASX0hxgc2mI5gfmoKBQKsFnbX9SGDGONw0GhvbxtlVKgB64METIH9OM067MIgq65RmsZUhXWur4PYU2ebYeNRXemwA/VtPXdrFyxDVovjJGM0CLM6Vdg61rA8XXxu+/beggRly9uRfH/R+77vfve7LHcdH/nIR2zFqfd7K5DPi7TJr33ta9iyZYuthH070DWD5IvPP4eJMbdqSSQBGraL6ppfYgOXANHJH3qZz2fIq17HsFOZ5kBDIRPlyFgHfBUaFTx74QLGou5zQhPTYxgZHbe9PHrvpCRiHL1qNZ6GzOIsN3Yx8tT+rwoGenuYZA1RJpTJJG3T/uzCIkr68gfz3qD2GYnr6Ky4HXWXJIBVtYCHHWmGI9E4O1EyTU2V+V3kqL1KAFUxEhy5SptMU+hputTeqfDBNxamMZilH/nOFBaxQPDUx5cpGlCPtShIE+hMJG3Dt7TJSXZiCc5ujtzvHFqLHcM9SEdrBErVUYWCIoc0QTLFhq6ZJTWuyz0kD1wyqn8Z2eUe7iSy+7Cyh0EuTLr3YfzVh/fvCD0Y++fczkMk/3ZaKZxIrsqNidAgnuft0/e0fK9YoTzIie7h8mtqX0Jj774bsG3nLgu3REssBJKHCJIXCZLdStg8LUWXxKVXI9WRew+qxVYuO6wvRtWqbGmvCqP60lV3/jxeTV9qICdWAhA31cw8k8dr0hSZnXEYOU7gG8iwnS/OYbqZRpNtygGEmq6eNzmRnyY1DRANFAiqTE/gTi5MnwBFoJ2aWkA502UDE3tHqWJbmi5hVp2dgCUSSKoUQ7m4geR8LM8EHUiqbysDLb3jFC/Wn70fpp9t2dHzUgZVC7zIXUtq+jNaqTqDVrqL9ZBkeiqJq08JCGurzD9r0+IwQXs1MZihS3kOU9QsW0lq/nR3eVZsps9M2PmztOtHsTUgt1vVI1M3kGxWsTYfQTcH8Pv23Wyg7vi8/UhtXIcDaP/h1q1bbcHMW5m0HUULFqXtbty4MXB965La1RsmLzy9QHLCYJnktmyYhDoA+0iTHUlTrXKz7Q60q2fbu0uNNtWkGa5SrmF+fgHT4+NIEoiG+npR40jXlt+zD5Wo0U3OF3BhYgYL80UkCJDdHJEPd3Zh2/BapCnA7PNUBDV7x0cw1At8yYpSuYpKscwYUfR19yCXy2KBI/Ox8THymsOa4QG6pdHb1YHufNbecUirrAvoKRe0/zKbTSGTpMZBAVupldHd04/5UgNzpQgqkQ7MNTIoUuBOMJWL1JDPUHuYyXSgxHCjvJ+s1FBgGbp7ek1IlamV2rFOEgrMt58+lNBTHYbJ6k6CSEIk5CfgEl1a9+45effLUTs/D6CK6/l4/7AR+Ws7eZ5hIzKhGRhPYbvCrcTbu6utOeMWHSmu8hvm4UnRjcfKWVQVuwvDSBAvnx3K8ulPbbX9anGUf2k7GqiprgJDu3vnTh4MZzMnfC4eFKl+MY6eiYCVdlusxeemuUaXQltasokY3/qHEmc60mbZHjWAsrNbGU6Hc+hVg8ggim56jNb+5Wb8GFWGeRRc6N2oSLFqbMt15kcH7mtwq3LYoigZxVWyFl6GaSkPvMrooH/3dLUQSfE5EK1XWUadTcswzIj1XfLx+VX+lE9prlqo1+Cgt9HUXlNq1cywZhYsPzS2qK1RZby65VuaqMuPeKp8Qd2wjlz6vNJYOVi9bH0My1/mUwONeKvKnqnD5gWhrg4che1vD1K71/Tl7OysrWD9SZHSvVaj2Red6KN9m5oi9rRS2B+nuVpybfsayGSJXdXp2UkoxCS0dHVCS5qHE2xsm7xXUtJEdA06v2VUYeRGYacOQjeN6tS5S1rsov2OBMC+dA5diQw6UmmUCyWUClWkNS2qUagAkFpchQJphNrt9MIsEpmM29NoWg+Q4v3AwKAt2tmwdr1pkYW5edhHZAlONfYm/UnDzHbkrPMsFgpY5Gg3wk48SKCuVkqYJ+9StYhSpYhzp89iamIahUoVkXQWVR1ezgaAXMaOp+vp7sD6oQECbicKBR1BR3AU6DJfsXgSLeaZmGnCVPWxBE5m9Os6sX+gqktf7yJf954MEK5APrw37eT920FH7nqu3k92D1rehKn9PkzhON7wZ8nP0+XyKAr7XcLLtaol/6VwK7KRI8ujX7a/RmB0cHeDvGxdCs2KV3suiumu3mhq0rbwGGdn9KtZFJcN/QktWM+U8BbG+DJeexreXMJH8dyiF5bcyqaUzZ95duFdDPG3svk/q4uAF8Px3xlGElzpXb/2PAruwnwUyewKzJ/gQqM6EjwxjvJkcVQjvLI8Mq5+WHblJcTT8SB6UYuzAQrrPUiNdvNkTJVPk8McmSpfcpeGaLx1VRwZixDEZxy6+bpUPTu/pZwZsLqWorAihfHm7UPWrkl6x6dTdLRIR3sUvQx5o+T5XS1d0u/eoBH19/fblKtO6NEqXNFKYX+cRnQ15b6m6VatTnrp+WcxQe1LiYmFT1S0/KDY2Gm3KSn9ES3rBByF155IZpVNlwJX060MJ22ozE7xo3MjODBbwtxiGT2ZFIa7e21UWCRwzsxO48KFc9Tq4ti0exeOnTuJdDKJvs5OJCNpnDp9Bpl8DmvWDNmZkAnmq1YtY7ZYRJIAO7+wgFw2R78kVf4ZxJIJlDiyrNSo2XV10XTbaT/T41MYHxnB4uQsOjry2HnjXhw6dcK+GjIwOMg8xzE5NsWRK9BBbXTj2iHLxxy11JHJSURiDZTIv0srZqkxVnSKSTqNajwCja87swRtlmF3OoNt1EoHu7MsfxV1AnCG/GTSyRQSOnmENemFgSj8gGU8YHk3f+/BTvbw82mnsL89G8ZbKY5/rmH3sF1xRSu5ebqcn9lizs+tipYJ7sPhVrCLp0Ky1Na+RKoDV37YdOuW7TvMfZlUd/ylsD5+/DBeOnkBtXSXmAW+y/m8hCitXWqy08jqr4Eg9vl+fVJY/TL8ZaJIqNuVFmlNffm0vZOc1XQj27CnIBjptTwFhNKyVDSOATGYjWB6ahbVpJtutQFsENwGtExLdiNVkvm1sKYjyUHjNOZjWQ4sk5Y3g2kClmpfacjm6mGZlCPxlOYrztqiMcA8zM1MoRLvJgYKnBlHAY2UuvgFubD03T7loSwHMaVFTFcSlAFpuguIlyJeSore5mVbZuwZ1lmeKLqp4t6w5yb7nJ2L8NYntXu1eZ2R+sQTT9iexBtuuMG+0CHNTGeqXiuJt/ZYSsZLHvuVqJrpkl3bS3Qcne7Vv/wM1tWQeKtfanGRzoVVvrWHUiCp/Idlw4+LlIbyIaNFmjpYwbtfjq7tnSQr68UXnsVkoCp7Fj4hf6+rGfY8/alCpTU1CJD0ZeKacmKcWJNgxjgcMTapNX7rlUN4tdRAhRXayV49kMxzPAqcmZvFKQKVPreQT+Wxff8NeP7EQZSrJWweXodWDbg4OWWzV6lUktpfH3Js/JqKmJydZN+IUDstc+wbtcU50i7TnVnEsil776i8NZlHlWJxdh7ToxOIV+oYGhrE2i2bcOzsKRRqFZsmLVXK1GaL1uk0CMgSbHPppL0TrRA5G1qUVC5ysFyjUEjSP8t4PYjnUyjVGkyvjAzLff/6Dbg134F8ImKbu1t1vZPMIKf3ksk0ktrnpaphnl29uobmSW6+3nX1RuSfg78Xye7dRT6+d2/3D9NK7p53u9/ruYsu8VORNKXN2tef3lGp3Hr3p3CaohTJ7nl40BbJRfvrXFjH14F9FHv27sPmbdvNLUwuWA3nzhzDyYsTqMezzIabujNhugL5/C2ReLishl0DuhQslkMotArs8ukobF8m72rvBZnhDi1NrRSxUKeWRXDxIQxPaA2nIDenKXpX6n2sj850Cwv6Rmo0Qx8NKljfRDADU2mG/PMxlqmFzkwcFbb5YpTgxGeghTqmMVo6K6wONX4ky7vCCQo5IGbcrlQMi4VFmwlyiVmOZSHJwVqBXZUbpaMJ0t4Un1ClinkOErR83UCS9SKeV0N6uqp7lbE7AyTYn2/Ye5stCny7kO8D0iB1YPlNN91ks3hvBCTD/UgkYNR7QpOVHOT770Z6EBQo6vNZOsBc60OkCQpktBdSYcJ98XJkbYayS9PD4qHVrop3+vRp04LF82r4vFFSur68+lxihnJf5dH+ze3bt19SDyvRNYJkHS+++CzGRy+ycTqBbWyYlt/U7fZBSitx7A0gg8p0FRF0RYZXN9D7BmPB0fzXX3oVB6h51TliSVDDy9bZlalFXiDoTExMsqOksGlwDXI9fTgxMYoagaWDIDU+MYWS3qlY5wKScX2NQcKTI6G0jp2r2eq7pg53JlBpG0i6M49IxmlrqFMQdHTaNHGRIBlhmKGhfvQNDaPA0avek8bIU9+jnGZjqhEQNXWqaR3hVoYCLMm8xVIZzC0sorowj6YW/VT17orCqbfX8lEqVZBi2MGBTty7Zhj7qREkqKFG07asA2nmJ88GKE1SH3J2nVo5dACgh+qNJ7mHNUjv568+XjuF3cO8ZW+nldx8eM9DpHCel7eLfJgV3Vl/TQKWu9doX5rgclg6mJ+oPa7sGmNp0UiYNHjRtP2effuwZVu7JumoxZHV6LnjOHlhDJWI3m5LFLtB3EokjUh+VhIfhDeyatAnCjmHyEI4q4DFQMUBstxZIudFEwpJu2BAE6LOP87BQrRRRTWWselODq3M3cXQvU+fvwZO4k1DD4Gs/BPsIfUmS8ryRmlXiIb8LYxCMLZNl4qjI9WxNEGpmjVqkmqnqiu9ItGz84DocdHlwZF6uNI2nc/kQwwp1rtERCNKjdDqdDkthZPdvseps2ktHrsn85tqVRDlYLZKcHVaoYe9ILaAOMi7I7qLfeAtuxb5Wa3Vi8iw79525zspNIMtIm8D0rPQ9xylkWmaVWAjej2QtH6y1J9Uv25VrIDPHx0nzUpbM3QVmMgovFalyuhwdF39FKk+o6XtHFpNK/K8VyLr56QXXnjBNEnFlZt4CvC1kEfpeboSr2uhOrHhO9/5ji1s0iHwkpcCeQ0wrkTXrkm++Jx9CURf4Bf5ChBmiqW+FRngpFW+Nx4o1ajtbGY2Up2uofeBvEMZKXzp2ZfwwswCFhg3R8Da1j+MCuXnNHkKdNf3dyKX4shmcp6yNIVcNoFiiaOgxSLGp2ap5dXIN4qufBZ93Z1IsyL0LcmLE+O2TL9J/xav2s84uH4dgbXGEdQMerXXa2iI5auiyfDSbrs5uhmbnsEENVTt1xzo6iEo11Am4I5NTWFhsUCwjbBh5TCokRDLMDkza8fVRVjWFjVRCbguNuS16zawcRUwcnEU69YMYWCwC9sSUdwQTSJWY8lzHKFT6GSySXR0dVH75CDB6leCQlzcqHmprnn1Jkw+TNhPbv5Rt4fXvfzsuQRAG44r8vF9WM9LFA7v47SHEfn7cBhP7j2TawMmEdVCgnDKV3ucS3izTUjOulNdlsMpnrYC7L3hhsuDJIH51PGDODYyxcGSthqJrwSt8kGr2NlV9+LPfAbAxDv7NX+SB4hLyTkqf/qxoJZ3F9tTyxCIruoz6hcm510IzYDYIhs6pghqpYUZRDN99gk4Y+zYGS3hQ5CWUtHV2fWGj7xqFHRsl7F8H+/4zJlxbeOwMJZ4kE+714/9I0lgWyjMI854NjhmnvTZMMdf9y6swZzllykqruotKBSfFENGkawVUKSg1RmvbrGUI5cu01d8e6foSqB8NAiKaVRRLsyile5EVCtSrS5FCiu78u4qQTE96Itk1XPVWbcqswA30SrhltvuRiKeNQ5vB5IMffHFF0370pFzIrX7qwVJkfqGNDjFEUmL06Z/Aa60LB/ucqQPMSstaZ0Kr89r6XuTV0M6+Fx7OTXd6klfKFGaWp374yINCP79v//3+Kf/9J9i9263JSxcJ5ejawNJAoS2gIxRk9T0jRKRESsvyK2xqsPT6rVIufurGq9N8bDvSIMjhFpnKbWSePzMCF6ansd5PoCtawfQx1FeMteFBQrwarHMkWQZM3NTmJ6vIZfrRk9XDsRKVFnWmflFduSygWE+m8a64SGOGyMYnZrAxekJJ/woOPUFdzUKfRR29MKITTVs3rrFPsdVKi7ygXeiSM11htrjXKGARk0CKo7Brl6Cbw5VjugLrAftAZuanWKZGhjWkVnsuJME1RmdyUotRl+F0BYTTS9k0xlMjI1jgX7btm1Bo1nClngUd3f0IE5tOJVPUY7UGC6JTjbWDEFS705txaSqVCCgByBrSGu6pP4toPP3D99fRd4/HE6kew9GctN9mG+YdB+O334vCsfz13Z+S/HoxjtGlpsz4bAysvs4l1xp3GpN+i8X08oiB60ulSa59TUgaTFNEzp54jDOzpaR7l3H9uF89RHjQMK7qycDEBdXXvyl3d17jWgpPC+Biw8SWLyrAiyHNfLhgiDemdxZB2y3bB/z02NIdg3bR6J9Fn1AaWwWOsiLaZL0U54FiAaS5WnMLRSR7l8XxOczNHRlLQb5CS4BP9VvC5lmEdPsR6me9VRptR9Tz8ilY6nqOdmdS89Iz82sgkY3na4D4lONefKaRHZwM+t6uS0HgY08eC7xZLyOSAVzkyNAxwBi6VzgQ7JyKu5yHnT1gw3jSodmpGYgGWebyZJXY34cN+y9iSCpgyQU6K1POo9VC160mjV8YMDVgqSmaAVKknkCNmmCXRyUr0ThvrcSaXpW6YqXQG/z5s2X5GklevbZZ+1MV2mT4TzpIHYdwO414+tNyuPv/u7v4vd///dx//33B66vT+HWedUkweAqgI0vVBmySzjpaqFCleT95GYC3EaJ8nBt04QrLeqcUY4Ya6UiR3p13LBxHdb25rB2sJNApc3YCygVprB101o+2JwB2WK5hAa1u0qxQGBJYO2aQaTTCRQW5wl4RVTLBFby18da1ZEi1ELjWY7J2YMWS9QEKTxymbTtK5ucnMA4zQVqe/OFRQPIck1L0Zu2FUR7LuepDS7Mz1tYvZvUMvaFuQXMz80bADYYXttPtCBJ2nKD6cwW5gjq00hmktY4VPFq0LafUvXFemloVMEKUe1ZFVrNOLumr93WEAX17gwbGJHVK/3a/ZefyXKYMPk4Yb9wPP/cPLWHb4/j7eE4VyKFciucZZbj2Ae6gzrx6Tn35TJ7WikpsdTB9a+XD60WbdDUdGBEJMGr+75pnT76bJldzWg8xzJa+hzW8aovUnAsZM/O3Cl8dTWjwY2/Z1zd89+F80Z/Fta5e39deTG7oEVp2KsLDsYiTc3GaLCpNqEwzk/G8qMhp90rX85dz8WuFofPk37ajqV3vzpir0Gg1BYtu2deLT3LR5BPi1OlqfBeteHi+Xwv1VdgxEMTua7+XB1qMl2vQhr8rbeqFpI9i2Y5jLerzMqrq19XBpVXg8gE86FDFOwZsO+5cimPri4sTRp9HL3GR19jn9cpWzXLA58xn3WFjYPjXpJkmK5vD9KzOHPmjH0MWWAkuup+xnDT09MGRtKqBLI62/VyACl6Pd4CNC260bs9yTPx1nu/N5InlUmf11I+VDbd/zhIgC7+2k/6RshJnTdI1mmCcvjKkJus4cpREF/gS9y9m/5o1ZUcLbx2NdcIMqlEEkM9vSjPzWD75vU48MpLOHvuDBYIhIlEDE2CS6tRRS3WpEZHzZFAyYgYu8BKuHCWD2oORYZdmJ/FvN4fVkroyGdMu8wSqDIEyUWtEpyeRD6XwfaNGwnKWjFG0KWmOjI3jQoFUX9vPwZppAkOUPOMEnzV6fK9XSa0Z6dm3AKeGjttXe9posil0hjWy202oP7ebvT2dLEja6qKAErts6uzAxmtELNFOQ4YdLiC6sjt/aOzerv+aZSO3NubncKH61+CUGHd87HaXKJwuKX6Dz0Tkb/3fDwvXdspHFd2Hz4cNpyOD9+etl3lFriLvJ8nf+8BWPdLJrhvp5XcLiWvXYiH/nQn0c/nQKvb0+evy8Y0M4Xi1XbaMRnNTsjNQIdunpO9fwv8bPSn7uY8SUH+jF+QG6sDXc3DjH7FU9tSLI4yRxfzMd4ujNIW6aJaknEcmCcLp3y58IYmgiGmZ2HI0/6InM7meNkGf8ZljfCqsjD/vFdeBIJKywad5OfrSvWjLLo6dEaaqr576fwcby360RSy82fdMkuujpfj+TqnLUhf+VA+aZR3+jGY5dc9B9p9XN7I+DR11qznb3lQnsRPESzDlq23LPl+I5DToprwVOWVyNWTiyuQ0LmuWnBz44032jcgl+rgTZD6vAb+ej+qPnrkyBHL4xsh5UPvCfV+0r/vfLP5aidNEevdq8D8jdBrpd9VE5smG5avZGdchXl/+w38RGHBRVfXMBWHFxlVsD5iW6CmlqBGuHHDBqwZXIvRixPIdfWiUKqhTm1Qx28N9Q5gqH8A/cODth2kRcAZ6HNu0iq17SNB90Qq4VaKppIYHuzHxrXD2LBmGJ25LLTjoFHlyJijqjQ7oVbCJpJxNAmEjWzCPqclDUfbODTtWSdoLlYqWKgQFBl5w7r1dv5rQmE6u9Df04d8JmtTwq1qDb35DgwT6BMsY4Jaat5eSjfdyjFVCQcEFQ4Iahy227tam4rWyNiNjqW9yu7rWceFhcncWN8GoKG69e5h4/3982i/F8mt3Yi34q9Enm/789U1nGaYfFifBwtH41xXzrtI9RDOq3e395CalWhL0119+q/NhyfHz0GIE9pa3cwBB+MLHEz4KoSuBiLkZgMbGqUhASy3IF2Tv7TbVCEDi73zIcnTKLjy3tJ3/6SlkEbOTaQcafDk/PWrHDvwUgKqS+tR5su7IM90Y2CLZ/mTnwcbz4v1prLI3fxdKCPFtTuBoupCi320+tWH0K8zSsINEFx4GZ+myPkH+TJ/lw9HQT4Du4vl6tV50IdG/gbQfN7uKdGZz1xB5K/p3qBVWNr6eLd/fprR0dOLsV+5t/ziaTVoGPl2ILUVaUICpPACl9cjtU0Bz7Fjx+wVk6Y0vRYq8m33zZDyJvC95ZZbLG8CSm0ZeSMkTVLmwoULgYvje71IgwQNMvQe9Y2Qa1NvkJTvlfKuyvbG+/sHoKuE2CXxaJe3uoPbJgIDomicI2c24Gq9hXKliYcff8amwVL5HkzNlVCk+9TcHMYnxjBBM8mCX5yaxtxiCfnObnT19qGLmlzP4AA6untQ5sMaZ8VMMUxhtmALdxYXFgiSUQwxTLYji7nSAuaK86gQNGsVgliljrnZeZtvvzhyEaM05y+cx9z8HCamJq3BTfKqxtZFIOzp7rWVs2fPnbN3BqMXxzE5OoHp0UkUZphWI4IEgbyzqxOzhQWcvzhK0KcGzLxZJ6axI8qsflQXgbBQXcopsF+J1KAEJmGw8NTe2FbipTBy96u9dO/dwqT7ldzawVrk4zuw923D5cUDna46olB/5qYw5uPCu6lYR56HqxwLseRm7gH5e/G5tOSeVL+ujpkhc9GNNBYJVnsimpMMrppA1HtnxdGq6QQHOAaobKd6x5Vi2bUH0QteaUr66kWMEliff0rFOWDjwMq516Hj65LJKNtPnPW2HE9JLxuXR73LE7wIFp0GpnzRX3b2lwTTTSeYJ0bSYjFWtg0A7XNRQT7FX8Dg46rIAgdpcCn2rXSU+WAfVFjxszzrCzdaIa5nY/Fc+TWY0AS1ywuTE0qx3jRWsXLwGlcdkVEiqS/eqCx+EpVk4O3auGmvZuRHw7gxxoszbR30wRbNBOqM4lYde03QwW3D6lz7Ls3f8h6xz9/FWbd2PB3rWluL9O5Z91rNaCsamT9l1LTKaxODP1FSW9Z7Owl5vUMU+X70eqS9jfr6hkBs27ZtS/3uepLve/7zWOrvAsp6sG/59fLq5YS0SclP5fl6k1YES0HRVparrTvRtX0FhB1hfGwUxcLiUuX4K33dLzNhU4Yke19g7hLimqiRANMIkB1OApIjc7230xaNejSJkfkCyskUZucXMDs2iWwmjwOnz2BWGphGJxQEPRxxjE0SGFmZGvUvLCxibo6qOoFH95rK1CHUM1MzmJyYtC80lBi/SC2vzDBzM3N2KHSVgJnM5TA5P0uQpZpPTVVHc0UJxHGtpmM+tJIvTo1UG/zj7Lgq6eJCASXy0cIQvavUYp/ZmWlUytRMGV5bD/SlEB1yPTc9y5Fc0fIYSyRRVDymIW25jyC7SQcw16v29XVtWVFdJrWyVYchxNxKM9+IZFRnvr79td3f6p9G5MN4CsddybRT2C3M06fRHiects+rTHvnDIezX4URXxsskK9zMnL2gI+7s19FdHfL5MOJ1O76+wfsQIeVqYWZ6Sm2IwrZbKdpKhKcSiP8Jzmq49Dq8zM4f/YUSrUW0pmcPa86B1fn2T7L9SbSeT5L5knpRoVAbHdnT57A+XPnqdkkke7I071mKzRPHjtBgTCOSDKLZFrxGIv8gpLTwkS9lT8CpzhqqBYLwZmnFPYRDuYmR3Hy6DFUW3HkOrrJv0H+M+R/zPZD5jt7DMDEW6AdrS/aIeCJTCeLVce5k8cxNj6Fjh6Ga9Zw4fRJnD5zGpMcyOnrIA3mO5XO2GrQcoltmPGUtiulnnEE5dkFCvEK6ySF4uwkzhw7ilFqBJOj41hYpHs2T+B0T07TnvEm+yH7YjzP56I6p7vArrowgzPHj2Pk/DlMUKhlGE+CVy1HzzTF8mrtQZP1pVOrJscnUGFf1UxRjH1ojIPas6fOYpyDVA20dQ6ylZs5LbMfnhLvkfP2MeqebMY+czc4MMyB+Qr7PN9ipK0a2pohIPH9xrdzkRamSGOUf5i0vULh9N5QK1FF4XjXmzRY1jYSTW1qu4hf9erT1DtB+Qu0wyR/HVQgEJNd7zuvZz4ffPBBfP3rXzdN/Bd+4ReW6uL16JpAUlOBE0T74mIhcFkm120caRRo7w04wmMsgiWvGvURRCSG1HglR0yosGNXdUZqM44DbORj7MTT1Li2r9+EbZu3oc4ONjnLjmzbJJpYMzBkL/QJkfaFgDhHwgulop2gIyHXKFZBNQ117R1hJ5aGqk6jAwR0NmxRn+gpVTm6jNm7R62wk594Jlh52VSGA9i6LcLRNg8tTIizI+qhJbWyj3WQp5DssK8WNO3jsHoXmSAIJuMp0wpzbAQ1gWilSuHE0a09lCjyWe2BTKO0uIABgWRnBxIcIOggdNPhlIZO22F4fTLLGgqNbzC6hhvP1bh7CgOV3MMgFg4XJu/uw6wUp/0q8uG8PUyviUcjgHR/3s52wXqWjUMp/unKO/p5/5U2kXueBsL80/L2np4+c1uJpmcIkmVqfRTI0iKdHi29i+l4oCIlOJA79eIj+C//3/8dZyYbuPG2u9GRquPYMz/Ef/jf/yPK8W7su+VGxneNOlYr4ZnvfxN//Rd/hcMHD+Dw4ePYuGsfejI1/OCrX8Dn/+ZLOPzSCxgZm8H2PbcixzYujUol83/MgKUtbUsHkSeoEVXL81QdCYZsH4sT5/CdL38FL7/4Es6OTqB7eCN6cy0889AP8PBDj+LM6ePoGdrE8neRCTUvlaO6yK7RsD29x159BY8/+gSOHT7M9p1Dd1ceL/7oMbzw4vM4e/hVPPDN7yM7sA47tm5EisBWKrHPZ3UyEQeP5CfwKbFf/vBLX8bR8zPYsW8Ppi4cxZMP/hAnTxzBC08+iudfPo09N9+KfN5t2VC5Es2Svf+P5npdOfnMktQMX3j0B/jaV76BiwS/MQ5uN23aanuXm6aJUsPlAKNamkeUA4vJ8xfwpb/9B9QSeWzdug6VibP427/+HF49eoqCdgzpXAeG12s/HHk3q3j2e9/DA9/7AQcmI5iZLWHbpnXIkt/A4Fv/U1l1yqJXX33VtkhokYvauG/nnlYCSZvVIliF9yC2x/txkPZNKp86OEDparuKp3aQDJdFV5VVeVY5rldepdl++ctfxuOPP27g+6u/+qsGyFdDl0quqyQDQjZ2kS+gFcaX55JyaRpJDgqvqRjnKQA1V3UaWWjiBBpzpNHD7u3q4Yg1hh889CB6Mx1Y0zdggNWihliY0oKcOZMhKTbwHj6QHEecnQSuNb19WDvQh3VDA9i6YR07wwZ7F9nFUXxO57IymRS1wp6+XndyRCaL/u5elKjpTWqLBrXMhTlqfwsE0koZGYKftnLoUIJOPlh9my+TTplbLx/2IEfgPeTdR+12w/AQtm7caHsm8/ksR/F59DIfA8OD2LCJ7oMD6M7lsaDp4YlpW1RUr1YMRKUhu+pRXbn6FRkQsKN7zcuPIsMUbkyuTpenP/19OMzrURgIRd4eNu1hPLW7yR7Os7f7cDLi5YHUu11STLHzJqBwfJnL0pX8VqRQXgl21t5Jyl6tOINRgsczj/yI4DZF3FnEK08/iIMvvozp6QoHc4QNARozOj89gQe+9QC6BzbhF//Jx3D4mYfwxMOPY/LMSTz0wPew/4778aF334Mnv/llvPLyITQ1+LL3nSKmqtGjADfIznLxNVgQtXD04EHMllv4pd/+LXRFK3jmyccxce40NabT+MTP/zJu3bsdjz/4OErar0s+5EYocoMMHej/9JMv4I53fgif+Oi7cOCpx3F+ooB3fujj+J3f+Rd45/33Yc3mLdi6ZQsBmoNNTYta6mYl4HIwWqnglRdewiK1cS1g49AU6zbvwC/9+j/Hr//mr2D7jk3YvWsXugi+lrrqkwxcWQSYMhoAtdColqkFnsPNd74Lv/1v/+/4pV/9DfRQC6lrytRKzFiMbHmfmcTBZ5+joChgsagj6yKY5IChkcjgl/7FP8dv/t4/x8233EKNlYMCDYKpAY+MnsP97/0Ifvf3/5/4xKd/Hp06ClLTvK5Sl+r5rUh6n6b+0a59rUS+f0mL0ztMbcu4muPXricpD3q/qP2Q2q4Sfj8ZlgUrkVbuKoxOAbpepGlWv6pV2KIBxdWS75FvmMLFXBJUoT9HLpQXMiJN1fLH2WkUTw9fTjGOjHU4QRfB0Y4tynXi1OlT7rT4M+dQXqBGRyDpzRCQ6JfN5tDT1Y08QUcaV5e+gUee2QzBMpehlpfmNYV0Kob+vm4+sLXsdASyzeuxadtmDBM4u7s70cORxdTomAEkVT/UdbRcqYxujmA3rN+ALVs2Y8umTQak+pKAMpvl6Mjel7AGNWoScPZ0d9Gugw0KyFLj1UHpPf29GFg7hI6uTounI7VGTp/FzMQU5QXvqalK4NgeM7K2urM0ZH998o3ePwNvVyPT6EnkwUykq7/3bu3k/cL+Ybt4eyNqD3slWins5eLLLZx3Tz78SnE8yc8fsK96f6PkACqIJxZ81rqLR5vIUuMbO3MCRw69auBw8Lnn6ePedylH0Qi1EloSbI+/8Nu/i9/6N7/PNjeABCW2zg4+d1zvs0u44Z534ZY7bkI3g588ftK2SDhi2cRA/5Tg4rmUHZXbQug+gvXUTD/0Sz+PNeuHkE+xHxXmMXbqPKIxtt2tu7B7+3YURsdRKJQYVVOkUTtUX1/mSKby+Ln3fwBbd27G2sE+LM4VMD69gBSFm97rHaTmsvf2OwiSG1iFbhZIJGDTO1VrA7zbvmM77rzrJvZH6dAc/BKost09mJ2ZxcXJIu5+xzvsFKnwNPoyMYbKSU7N6gIitQXUKBxPHTqFerHljosjkCmECStmwWYXmMb+W27Hzh3bWCQNSSIoz88yiw32r5OmiWhWSanp4PqSfcuzgoXZRRw5cQIVyiH3vlY8lbol8ZYlrcgMb/u4HPk+qb6v6VmBqk62+UmT75v62of6cHhrx5X6rUhap4xWo14P8ul+7GMfw7/8l/8Sv/mbv7k0aLgaunaQbCuwKsJohfJbZ6JZrhwX17uJlUBC7wJl13RuaaGIqbEJWwxjBxbU3bmTfdQSB3r7oY+kCoQ05aR3gkhyBM9Gr09X1Ro1VOplSFYl2DmrtQpmOBLTnsZCcZF+Gu+6kcq5s2dx7PARe7fBhDnMbtoUq4BKDVIdcnZ6hiM5an3ULssa3bCDaf/lXGEOExSS86UF24elgwWK1SqmKaimFmYxMjlGITFOgeiWbU9cuIgTB49gimlpMCCZI8HR0qY01YG01aAeVR9yM6BjHdl38mhUz76uvV3u3vh7Xdufkb+KfDhP/hl5CgOsjCfF8aadwn4+XjicT6M9THs+PYXDeF7tYUTevT2cW/CzXKY3Sk7DUHzlmenIzrxG9SHuehGnXjmAs0cO4cjR0wzD9BkmSa0lTm0wqqPXsgO48fZ7OIwdx5c+91cU1BHcvH+vfcWmiS4k9J6OA708wbS4OMv2U2E6qvcgTSVHm6dwyc29GcXwuk1Yx4HYE9/5Jp5/9RA27dyKcpWaVaKb4BMjOHUgx2qQJqlj6ER6t6plPMlMDpsIoplEHUcIiAvUyIaH1/LZ1zBx8QRGxgvYecONaEUVl+21GWO5XC50Qo9NgHKAOLxpI5CRLsg+SsTT42zU53HkwKvoWbMLPVqB3qha/WiBjy+fSiQnad7NaJz5buIiweClF5/GA//wBXztC1/A7PyivRJR/TtI5pVRs/keDG/exHxpERFLQ77TU0WcPHEMj37/u/j7z34OBw8dYd71uiKOeqmCsXMjeP6px/C1L/0tvvONr6JYqLA8AlLHW3+vR+E+0m735nqT+qIWnQgkV2r/7aQwfpHP9ZyyvBZSf9Q7QIF8nfJddDV1JHCfmJhYkkNvtl4lyz/xiU/gN37jN/DLv/zLpoRdLS1LvzdA6rxq3uHKby9E+D4czqz8kZsXaAxs4bUxWKBhwHX0qC246e/pRZpaYgc1Rn3OSuBSIMjVqDJOzExjbGIM2syvT2LNLS7QFGz1aKVVJ3gVMcN7bSjWxmadt6qVsFrlukCtVItw4uzkFR1Tx2cRZ2fSyD2dyvDBruOD6rQHqwY6z1Hx4jxHuiyW3kOmM2mOVOMaB/MPmCO/iVktcuADyWdRJUN94Fmar8qUy2SxeSO116Fhe4dqxaaJxrVOUKvvdIRazerE6oM8VSe+HrVNwtdbuD5F7ffGI7jKL8wnTD6e91spjMjzC/v7fITT9vc+vcvx8+TD+3x6E6Z2PrKr44Td2+OInL/rYNdGYZ5BPdFoPJPoGcLe/VsxcvAZ/OiRJ5Hu34p127ax/Rbx5GPfw3/9o/8P/vi//Ve8dOAoESmKKkGro2PIjj2cHRslgDQJpEkk2f1imvsgQGi1ph1ibimJZFO9GzQbBfi0RNJ2lZ86+4NkyWD/MEps+yXyFzCorWqLhIWl0fmssjm9i/H4E6X+On7qGL7+wGPYf9c92LiWwqNewpmjh5Dt24jhwSHGkBapGJdmQDPDzVgEFQ4kazZNLBDVa4kWKgsTOHfmLLbuu4FgLA1bz4JhrDB8NmYhP32klUQWiGV6cNd7fxG//ru/h//bb30aMxMncfjISQZzYRTDju9jNGmM+v6kFkdplW2j1sL6Hbfin/7GP8e/+lf/Crdu24JnH3kKFda93p1mU91450c/iX/2e7+J3/jFT+DiwYM4dfIC80+IZX7dhprXp3Bb8wJctFIbvB6kdqzpQcmhq9F+fD40xal3gVc6KOAnRQJ3rceQdn+1pHxrz6Rf5fpm6ldx9epJ7yA16yfAfCP8XA+6BrIBoa6XJObsXnh59sthfMdwNpHCSnOUi0JpRKhNrp25Dntn0tfdjQ+//4PoG6aQGRq0l64T1NLOTY9bI9WR4Hrl3sXw2uyfJBjp5I4FanoTBMQaeee6eghoaTvTVT1bq1Z1/myKlbZ95w5s2LgRibj7VI5e4OvIJC2VjieSKJVLVrn9ff3YQPdUMgF9qHmIo2O9M23VG/ZudHZ6juEyBp7a66kVrJILqgFpn3MMk2YjX8e00vZelMBAgNSKWQGgupv/kruRrjSqOxkT+iyLyuw7Z/uDXq53Rz6uJ3cfDEwCkt2DlL+uRC7ulf28ER9vwvfe7q8iK1dgwuR5eePJxw0bxW0P4++dFrJyvi9PPjyvbcjU0oa7RBduueNWzF84iK9/4yHsv+/92LFjK/0aGBhcg327dmHv7p3Ip+o4cehldK3diV//vX+DHesH8J1vfxvlSIPtvIjKYhnV8gIWi7MUaB1slwQDgQ2TdJO7/BXSvTYb5huJ1DA5dh6FUgPv/vgv4H3vvBfHnn2O7a3IxlRQZmmfR4k8tUhHgGhsDNAabOtsu+MX8OXPfQ19G/bhHe/7OQoz9pFKAadOXMDGHXuRoXDTrIad0aq8hEh45Q1ZMU/8U9noMDs2g1KVWsS6NeyfToNwpBwsF0Y8o6xTxdfK2p037KU2vMdejWxa30ftcJ5ZZQ9vax9Ky9yo3TbZpnVUZudAP/bfcTflRD9u2L4edcqASqWKDAUk4mlsuflWDG/dRr7rMdSV56B2wQDSDUPaKriN9E7t8OHDdqi43g/qFZAEuFZi6gxUaW0/DlLb1SBdi2CuZqGJwus0HU1Vaqrzjbf9608CKO3PFEi29/PLkQYE6tsaIFwvUtp+gO3vr4acpHqjZPUejHD5EFQYudleN96/NnEJMV0lIJeTlM0eIuNpDyFFnoGvOtYgQVGS4ZXnXsQcG+DY3BSSBJcCK216btamOdcND2Pz2g1IRxMclUcMUHVSz/TENMbHJlGrNnifxsLMAi6OjqPC0ViNo+ziIkGLoDZ64SJmZ+ZMg1RhhD1a3aoVqWPj4zh99gxmCG69fb3stBvs3aUtdy+X7eglPcCJi2OYuTiB8twiFibncP7UOUyMjNoWkhbTry5WUC4UbZ/lkWNHcYGahJbfa8uLoG6xXLGPQ0vSaO+WgFOVKXmkWrT6lD8B0p2T6QBFdX6lDiA/bzyYmJ3sw/Haw3jy7jL+ecp+JQoDuCcfx/MShfPjqZ237n04H9abldyVx3A+bTCgMMH95cjFcL8MqWbs7oIfJ4zpzmKpxQus2IQwvHEH1vb3YHqhiu37dpu2UkcC2/beho9/4pfw8Y99HAMdCfz1f/s/8ZXPf55CdJZgVkFHbx/WbOBAKVXE6aMHcPrEScwWy1jLAZi0SolsJblMSpW/yobdq36DfNEcffEZPPjA91CYdwOzdC5PXkOol8dRmB7FBQrxeGcO+VyaIMS40q5VT2zH0eocHvz6V9gvUvjkJz/Ogam+EdhCcaGA0eki1mwcZo7qBDAl7tJzFbRcn8qX6lhA2Qj2Iuq9/fjoFCKpTnR3dtn7T4soFu6HxDoVO+MVQTxaZ/85h69/4W8wdvIE5llfkzPzjJ8P0lM9uLrQrfuUmYN9uceo0T7z+IN45Lvf4sBgAafZf5OdGcRqizh28AROnj6Pb3/pHzAzMkJwLGCG/a6DQKlFQMq7K8VyucKk/v6lL33JzFe/+lX84R/+oW0nEHj97d/+Lf7u7/4On/nMZ/Doo48utcHrSVpkotWgApvXI/UJTW0KUN/IlOKPmzTtq0HF1RxZpzqUxqcp1+s5+AgD5BuhZan4hoiFFJpJGAUu1okoSVbKhHNzgsvFNWcmzgbOnhLRRuh4AjpbVSPC8YlxzBTmke3sxo179xNAY+jo7MAIQe3MqTPoo9Z4z023IpvMoFnVRKpryGMErHlNpU7NssPNYJbX08dP4+yxExy1F5FJZQxwGmXqmrUmZidmcPzQMZw/fRZNHeTI/Kk7T7HxX+CopyRVPxa16dlT7Lhnzp3DLBusvggySTM3M4sGBVyNAKktJ2MEx7ELHC1V6kiRVwfTS7biiFU5gilVMUPwvkhA1QeedXqL9o9GCPDpLDVLbZhmWu6kF9aZKojkz85UGe3j1IERtdf1So3vkjDybns84TjtdsX1Rvcr8V+JFL69QYbt7eTBbqUw4TTb+fn7cNzl8K7O6OHMa0i+Mst+3mX5l35W1RSkdtey1ZORVBo9Q2uotdyHHftvxratm+xM3kQiYp9tK1RLmGXbyfQO4J3vfheOPf80/uT/+P+hnh3CL/3ar2D3nptxx3234Ydf+1/47Oe/gt133o8bb92HZoPt0tDY5d39+kHTsosDDV6icezZt9f2L/7ln/05Xj12Efe9/wPYtX8/Bvvz+Nxf/hkefOJZ3HX/7chnCMCKp/rhv2ZgJs6cww9+8F1MLEzgy1/4HD7753+JkVGdR8y2mM6gqzdHEBEMqU1q1a7qinkIqkxtVX/KVZ39V68uotTslM5csYBcbxcHqdSO1aAZxowu/CGsyUJqkA8HHnTp6d+AdUN9+Obf/wU+85f/C7GuddTIt9Knxn4QZfoWOQBXPg0+m1aKWmhcamgMu7dtY18/gD/94z/GUweO4/Z77kNzYQbf+Ma3Ectk0deZxJc++xn81ee+gIEtu7B9+wbrX8FDviw98sgjtjH+05/+tH1m6dvf/ra989MgWRreRz7yEdua8c1vftO2XFxPUrsWsFztVKvCCyQFkOpXbxXSojYB99Wem6qyaMrVn47j+/ebobAsEbXfX46ucZ9kkw9C+yQXXZv3xETDCatcGpkuF1D+/sFJMNKPwXXMl0afNWp6i40IHnzmRZyZpZpNDa8znsSQNqOygl89ccKOkNsyMIRWuYqRyXGcn5nCOAFVBwFMazO/LayRik/+BNcqAUkb/JWvKLXVwf4B9sgGStQQIxwh24paPsBEOmXfeMwH0xo29cm8Kef2HbXiIvSd11K9ikUdel5YJNBSqDHPMfJNKx5Hvamc9lpqmqto7y57OrpsS4mEXG/fIM2Afe0jlU+jt7cHG/v6sZbCJat9ksxLOp+x6dlUkmHorlNHlD/lX/Woq2lJ/PP1amVboUOEG5bFs/p3z8fxWb4P8wqHCdPl3D3J3edD9pXCyc2n1Z6mD99uF12prN6vHWy9vY91rFORViYtivD7JDsC/NEPjUcDuxdENpHJdWLnXgLjjj3YRMF40x13YePW9Vi/ZTP27L0BPfo+KUPrUIJ4MoEd27Zj7frNyPcP4+c++AFs27UV4OBp047ttupw6959eOeHPobBgX5mpSYFz6WmH7U+u7qLlsYkCSc6TICNzT6V1dHRQ2BZp7eG2Lr/FvLfYaflDA6vRTSp1wm7se/Gm1y9Mb5WpeowgXK1hnimE+s2b8PaLVvR0d1NkOrD0Lphttsc1q3fiL7BYdapcqHnAQ74qigz7Wimi5nRx5LFkx7MZjKTxsCa9cjlOxinZZv4127aijw1IBt6MlhQFHFzhwmUS4gy/5aGispB7/oNw9BJQd1Dm3H3/e9mf9EXIQihHDxIXqQjKv88WskcGpQNXd29rMc1SGX1SqQPvQMEB/rddMvd2LlvD3nF0L9miFrxWmzasJYyIY4167fg3vvuQ38Hy1Cax9DAa/dJqt2ozjS1+vnPf94We+hzUN/73vfsUHABl6YQ9X7rPvLSUW9aTarjJa/n5560uFB8tY3j9aZblScBpPKu10X+G49vBVKeBJT6+ojeT+qVWnjvZDup7uuUrZqi1TYS37ffLAmkBb5XSrudru3EnaamI0ftMAE1eHOTQNE/K8Mbd+/cfBfRe7VAAtj7AJYcWjGnkaG+/VfiCPPExCxKqSwSBJzi/AzWrRnG2ZlJXFicZ/gWhrq6bX/WPIXKTKuGKiVLhZ0+oi8CEKAkaKIElxwFlgRRN8PrAHFpcFpJmGVjm5uescrSvH1nbze11rxpqwMEZLlrBWyZ4SM6JSTF0XA2ReEWt89e6QiyTubPTmDRSlh2sDgBdmDdGnT19ZpWoWkcLSbSIp6CNk3HIli7Zg3z0olGTAcTkEdHJ3opMDuZVgfFXKteQ7qrA1WWTQCZEEhS0PoOrKle1aWJpqDBtF896V5GjetK0zTu2bjwsrc3Rs9HFA4bJg9aGjz58JcLE6ZwGG9fKa5IbmEe7XnxfmE+1uQYrkfbidpBUtEt6DJIRi8BSfIzuyfWD93S+U6s37iJzyZNTakPw2uH2EYiGFi7Dt1sR9IG9dFoBx7sB9EEgWcjwWsnOrt67VQpfT1DnXTHzl3YvG0PMppJoLuVgPnWnyjoJpZXWQUSCbb3WnHBvn3JxsF2HbEBmt6td1Bz1QEY0o5S+W5s3bHDFqDZAibVH8tq1VIrcvBYR46a24Ztuwj42y1/W7Zus1OgtGK8b2CQYQWrisDasLQdSEayXTYDEnhZVSZzefYbAZoW+YB9r4f9qcv1R7q6sC60rolGyQaSiWwvy0lNNarXD0yDALeBWp4GIDq9R/E9QCohgaTK30jk0aJWr76tqWQ3IxxH/+AQtu/aw8HwIPXPum0hGaR2qlkarVfYvH0HAWe7bdVKNNkvq4UAJN3iIE++HelYSr1z/MAHPmCntehdnzRHfe5JwltAJABTeAl0vQ8UmF4v0gBd2umWLVte94QYgeTx48dNfvk8vZVI+fdHzumAdmnhlyPlXUaapGT465X9akkLmrSu5Wr2m3paljpvhFSAoMkLDKxAdqeGGgCk7GrVtDtfChn2VXn5h+c0IieU7YR+aZkUdgNrh9HPht3d14nNuzchno9hsbKAXFeO2l7KVj31sqA1gphGsJmOHEd1/diwcT0FTgYtCi19kkfv97IEqe7eLqylnw5DnyfQ6oPJmZ5OJBgv180rG/qCVsbOz2JRGmOlzJH9APo5stbq0ybBSav4GsQaTQ0P9Pdjy4aN1hgj7GwRAqcOXdYB5NlcFp09XRhYvw6x7jzGahQqvVl0re3lKJeaZrJF4J/FFBvLhTNnbSpX01a28pA8DHRVD7xX/cnZiQ/ard5c3Yl8PXoSUMjY81CdBveews/Gh2m/b7dfjnyYcByfns+Dd2+3r+Tffi8K5927y82XIxzO2727vxfxLrBdgZbCu9CSyXoCzmhWgXWlBV8EpVJN5+1qRadWMLOlNWOo8rHZViS1FTJwtarTRuP0a6BeLTsA5Z/WRLfqLZQqLVt9aWeT2vNVcmajxefH3XlSPpbL5uxaqKYBXbNRpgt5R2MEjSjdmK5WjPPPOp+uiiUetNabUZYF9u3VMvNXqVWYY4aOxi2e7JYp+/c8WCpj43gZsb02WjF6E5Ss4qJWT3q1odNXl7L7GuKwo6XcK6UE4oyqFDSbVK0z3xp0KXEZlodPn/nWVR1Rq2iVBvPLSG6LFFAhRktLbjQqHMS6QbPqX/XaaMZZ36xzPT/mVakFw4DLkgZ+al86q/npp582jVL3ekcowS3tzj8PgdQbEb5XQ5rSVTpXqxXqPanyEG7/bwVSfqR1+/2PXu6sRD7vqltpn9fzHFdp/37q+kp5CNO1gSQblrUsCgR9gcELqXZjIQOBJgr7KY7pNzZCVDchO/KSRVpXhaC1wJHZ9jVDSBPU9nFEvLd/GFu7+9GfIliysyQlUNjgOzIZjgYHCFoCvLhpf0lqfikaTfvoXEctWElQe9N704VSAZ2DfRhcP4wow5eo6U1NTGCcwDU2PsZORfDlw+njKLWD2qw6fpTaM1VdGxRoVWyFeSpS6DU08tant5iO6kXbOPS+Ymxq0r4YUmW8CMvT1Z2zjjszOYp5ai5lvdNYKLDjsvzUFLXPUuHsSyCBti173QSr6k6VJXJ1KQrXpzeevF11798PysnwN3hm/rn5cK9H4fA+vXB8bw9TOEyYvHt7PkTezxtPPo8KL+34cvG8+2tTDVHguVRqWcjfLjIm7EUMaLwCkLH05Gb/CkhLjM1Yd0pXoVocNMk4b7VtXaUt2Xt72rXvUDMpMhZGD8aY+hzIynTluUROpPtcCv6UL4GL8i7eWnyrEAZ2Fko8FdeR/FzRaKO7uNiduYmH/hVBFoGUbCqI/C9P4uuuy7m0e+NnuSAtXwOL1Yn8Y8q4xdR5QDpWQXVpNcd/BfaGt4pOIxCUf4NhBdxRy6/qjGXX1hDFsII53mr8rmaMK433CzKzAkmoCnj+9E//FO9///ttYPzDH/7QvnahfiXSoP2ll16yqURNc15PEvDaIRXW7q5MmuoVoFxvoL5epDIIKK/2tBvfjyVPrxfpcHgB9dXIO09qIW+clAAbqH9uLkE2Tjp445qhqxj5t2fKJ6yQ1o4JJhaODX16YRazAhJqXDoculQs2JYNHUcXjyYxNLzG3jNIW6xXqwQvfdVjHhcvXnAAl0khmtIIvobJiXHzK5DXNO36riTHlKjWylgsF3Dy9HGcPX3S3DVVpNV5BQL0GbpNT04gzhF1iibBkW1MyxpZ7tHpCZweH8Fiq4Gcpmqpjerd58ULIzh9/KQd3KyumCDY5WotdFEFrU8v4sLJczh39jyqHOmqOrKZnJtiZsOWQNAhBjowIa7GocohOUGpBuNceGdXX6eqXzUm2dVJRAIQ7y+jKHok9lkpez56OgJOPUPxc8/I01I8kvNfJp9emBzP5efs78PhwvfeX8bf+2vYXSR7mK93aw+z0r25hdxXpMCfKViLlXGfxFL9yM/7u18Phgqt/XkWjw/IQ5aEsE1rqv74r3OGteHdfQ8y0M7EibdOxCsdm6R0GqjSFj/ZAzcHpi68suPiir/Cyq50aTGyHJm/+5WLUlUbce1KOXSasRYKMeUAoMXLjqxTXdPFQYDKovh04b/yKq7y143jz5DkpfBWDrrITXbNkLhQnpRvPhtdGF8LguTm9GEFFuBp7kT8VD6XguNgkXg1zha+xnL4upGrLXwyO/sA/ZVPXxMOTp2/JcUf+4KJhVqZBDjqT1q4o/d9f/7nf27Ade+999r7wueffx5//dd/jc9+9rP2XlJTsNeTtCDxakHP95MrTWP+tElTnV4+XQ1Ji74eIOnlhwYcSj8sL16PrvKdpC+QY6xpELdwp8hGZ63N3oPYSjEae1j6s1t3H6alDNJZfcB4ECQrjSrmCSzffeEFXNC+woTOR21An80Zm1vAKI1GbzPU0mLU3kbnZ9BiJep9o75Iov2JOv5NiwW02EX8C3PztgVDX2xIpdLUDDttylb7HZvVBqbHJ1FnQ1Rgxenu67d3iRk2NC3qySVT6Mrl7Rg6veN0eyfLaOgdB+91Nmucla6zXHP5rE25Jam2DjIPw+k8uqIp9GphT62BhclpFEsVxAjgfFLo7e1HPpnEcCaNbmqR9smjLDVOgru2suj9kBYT6aFqha8qVCuA7V0R7X6k5eszbL+E6KSFTL6hKIgeiXsuEfOzqW+Lq+e1DLxyuxy4eQq7y4TDex7+PkzL+VnmqWvY3ZPsnq/Lt6P2OvCje0cSgk309vXZAg+VzdEyX235mZmfotavw+/1hQ59aYPaGRumvvARp7+mDGMUvuYe2GMcIJnd7gNDfnJL0k/nuOgtik6D0cDL+Jl/JOBJP3MLjNKiEHdpuHRcHBkODnWldpRhmHp5EYl0ju0lbtqT3hcqjvglWF5dpUFZ31Fa4m33TSRlb1ZRURtjG5eb8ijwiDG8TIL5t09hRXWvvCivTaSZD51lnEp32DnL+gKJy7OvA7alIB2bfbEygXXBMJa2y5vsqVbVvvmazHeyTTOe8q08GC/FD8LSXWnIT+VIx1j+yiKi6Syicb37D8IrDK/s1QEP8jS7ywu7F43COLvc0rxvsTza26o+thJJM9Meydtvv93ej+ms50996lO2elQCVwNTTd9Js7z//vuvWuu7WtK3FTW1q4Uur0cCcWmzyqvy8VaisCzRXlOtBRFgvh5palbP4M0erae0VT8PPfSQpa/8XPUJRgy8LHEuS5cKlwaB4JUDL2GCQEmRbQlqXCeBY9NSDR3R1iDuETipKXnBpQxdkhztutdB4WhUMF8sYorN/f964Ls4tVBBb0cf3nX7LQSpNIVYC+cndCxcGQk28GxnDgutmoHqLEd00jQ1FSqgUj50EHpXRxc64ikUp+dQbdbR1dsTgHnDFg1or+Tc5CzzWCUg6nNY1FI3bUQsnbaGX2cHUodLRxKYKy6gxHQXmJZWnzYlJHIZpAlai3Ozthiov68XGYLe5Ilz6GW6g+z8+3bsxvq1w4hQIBx45RX88KmXME3hU+foMM9GsnVoEDezE6xtEsgTTfSwE1aKJehw9Gw2Y+84NUWRTlDcsOpsCspGv64+RR48RL5+2x++wmg87d3tmdBKeAmei2zio/h8jrTa82O4qxl5eX+lL7vi+Xx5Hr4diC5pByQvpMJhLM9BOF29XzgvLu/LAzFdl/1dnG07dmL9xi1274zq0FnrFPRjF09gYmIBrVjapukkWB23cJnlonumxXbgfPhLZ+fDfAROpkWava29+3x5J7vlTfA8ZZdN3ssu7rnpA8JyTFEoN2tlNOMZ6Cg3aV2eTOviv5IJasqmIeVGBY137glHm4uo1emY0LsrlZVaW8stNgpK4Yh8LEeBthUHgY39DFo0Q8amcTJ9l5bToEWegxWXcV3xpO+Ku8pDFk32WcoR4yVv/sjfggYcpCEq/65cipvgwKBKYGP+41lbqbqksQdxdFV6dic/ZsK40q6yyM/lgDXBft8sl3DjzXdy8LvymahqP3qGap/htnVpO1umy7lfKz311FN2uEm7hrpSOjrsQF+50Nmk12uhy/Uin19pxtK63/ve99pipNcjfQdTcW6++eY3Va8CyP/5P/+nLYTSAEJTvr/yK79ig5vXo6sEyUvJgeSLFCzjrmOQg4BJVjVabYHQOaYeJP00oBd6PkmVWVb1/yi1yNnFBUy3EvjTb3wH58oEEtp7uvO2qTmRZKdAysAwm4yz4hYJjkXMUkMravEDSZvx0wQXfRarQJDszuaxeXAtqGLi2LmTBNC8fQC5WtEih5pt36gVK2hpOjXLUSk1vGxvNzIMJ2FgGiJBL0lhND45hSL51lgeTVNquiqaoqbH0WytWWFBmhwZdaGvswvVC+OoX5zCb3/03bjzphuQYQHT7PE15vWhpw/gv/7DVzBDYEz0dqKLpXrP5o3YkaYGEq2hd2DQtqx0cJSf0aIkAmU60HztvZWEhdWfjBuZhcGknXzD0lXCVmFl1zMxNw4Y3Lsf2vUoyUYbs0WyS0hIQFwujeVnSVEUpBUO59JYvhcfL3jC4b1dpHsZ39H9fRgkw3FlvN2nZ04KwkJt3bYD6zd5kBTRI4ijab0zpw/i2InzBMkUq9dNXpKT+YuWbIFFvv5Gv+5OscTWp3Ht5KtCF+lIKrWEu14TpDX45ICrkcgSJNkmlJ4M/V3SyznX1dxYJrsXD94nmmU7VKOR7AzSIk/2ZE0lGyhZaJHqc5ljmiBZtbQ7DLS1bcv8+WM1xryJfHzFkl1nyDpSPvT+tkVNUgPbOlrJvMuYaDlhEnnS2bLuvXUebqxCYCugntCpVa59uNRdZBdUdrqQgWdtTnajfGpgII2+gQ7279vufEcAkj7wW4PU3n/0ox/ZdyD1bvT1SKcACSjf8573WD97K5Lkqt7pCvSupkxaMCVAu+222/j4ru35qE8KmDUT8Ou//ut2XN/DDz9s2rmmzV+Prg0kOQJ75ZWXMDkxyoxTeJGFGnNELyDYcfTtxZo6HkFSi1C8QPYCTA9fbV8LdHTvPiZbN01yrBYhiHwVZxcbtocqnU9Sw+MDZyNuETQzHAV06gPIbAQFquEX9F1IvWshTwl7bf1oxgg42q7BkWYftckUO9OUlvlPzVJhtZNSyY/5ITg2F4oEUeYvGUN+oAexTAKL5aLtk4xSCGXTGXR2dmCB4SoEOYEkPaGDyMVHI/RY2n2BPca8dSSSyMwWcMvgGvxvP/8xHD54CL3UEHevG2b+kxQwOfyXz/0DvsqHn9u8AZgv4F2bNmB3PoosNczewQFqqlUDyTQ1yEyeIMlrSouPrBO7OhO5KVIHPJ7CQOKvBoLSGBjPPwfHh0KKhhwCQz/+RakdrwRIl6N2f8X1YCg/b/f5lN2eeyjfnkedAxfvJyN33fsyi+Tmw4f9/NXxZ9oU5DrXd9u2ndiwuW3UamHZNiMNHD9xGOcmSkj2rbETXCTE9RcoMLwyD3bVvYuneqKL2d3VkcUL7CL5rkQ+pqdLOS1zYMr0EFfBSx1Z5rcwzcFpRx+aAgq6W7ygnhyZS4gL64M3muURrMTLc3ZsY7JX3x2kRwAa+jMW4mXlpNWxsmsOZczMjCPZNczmotWWvo6US825uLK7mMskX5thkg87jDT1dF0fKZ9BcmAdGgI7ZrA9rh6xe+/reOidao4guTA5BuQHOUjNBuEV5pKYLl/GMbjnrwdz8dTgPo8KIoszuHHfTey/2oO43B496b2jNJk3SnoWGlzqfWK4nb8Rktx88skn7Uv/2jLhSQuJ1MYl7MOHDGgLirar3Hnnndec5o+b6uzf2j4j4NfU9euRgF9lEphda5kEjv/pP/0n/M7v/M7SHlblQ9t1VIdellyOrvEwgTrV12CfJPMtYWRf6mA/8EJL06/ER2v1YaG2ZOe/AMb8+SPlpUqBNldr4cVjJzFXrFO768RgXy9y7EDzCwXTGPX1jUitgh4Ch5bkz5QFx4IPNX5N84lhy32wOBK3b03WqUmmY+5jyAmdJNLdaenpUAF9XFlfLogzXI6aYIqam963SIvUsXYNao/JZEZBUSnVyJcjTuKKGxQ4ENCq2Wyao3qCqjZyd1Ir/vTdd2K4cwBf/fbTVGQXsW3TMIpl8qVs6cxl8SRHfHmOpAT2m3q60BV1AkxnuWoQoo84xxIcObOccfLUYh518CU5SPJ16etcJuzuQYYuFtfTkpuERfD8nBvDyyEI6vmIr/N/LXleRoy3lM5yckuN2/MSyS3svpKfK5Nclsvmyfktu13iz+y4FbzKVws9vXoneek7HQlQ5xuxjy4XagSPXDe1ST1H1oOm8ii8dY3KzvbkrtSE5GZ+1JAY3sIuGedvYS5xv9Qs+zG8eAVpLbt5k2DGXBraYqQF2rXyIqLZbu3gt7ByX4qzdJ8M4rBVWZlcGmrn0RY1Qg5g4/letMSb7i02zJbi2L1zi/Je8XQIh/im2EbLlRJiQdrWmC0u07BwoTKovsTH7CwDr84krG/p3aFmTOKdPfRXXpfLoG1XitdSXIFxcB9h3CRZ1Soc2Ka7EUvllsqlcBZWeTY+StfFcc8qMOTlyuTqMkJeg7ZPUqB/KalNaV/fwYMH7YxWgdAbMYqrwwgkjNWm1JfDJP7t/SrsJpAUSOh9nIS5VtFq+lV7/QQcev+obRIeiJWWwmh6tp3vT5t8uXTVhn69j7yaBUbaAqOj6TZu3HjNZdKHn7V/9KMf/ajVk0gDGP/e9vX4uhjXQGKrBR+2T9JcKKRoUYLBmNHRpbJtiRSOCp+N+CSY7ZBvCm0tVukfGKL2polI4OZdO/HJd78X+6kNdObzSFFT3LVlK27bfwPqpUUOguvsryoskUtThyyRvurfne8kkBIQ2fjXdHbbua6D1OaG1vSgk2HvXrMG//ojH8PvfvKT+OD992InRxjdHd3o7ezFQE8fhvsHsWn9BvR2dVun1gk4+gKJHm6aQNYkeLIVWwUOiHdXDwZsy0gHBvq60ZWNoTQ9i1deOoqXDp3Fq2cX8NTB87YoaHCom2l0o1ooQocb2DsuAyopqRxe8Kr3Mb7u2K6MVGc2KLE6VwBnb6ewk4Xlvbs640gjXQdGfuWsPYzgOTp31zzUsM35kvju3pHPYChM2C6v0NXxVYdxvJevHOgEeVom17nCbgrnecuuUfWl5DRRF8ZSMrcwqY6lWXgiFzNqR9aC5eUiu5jKn64B6ZmJxzIFvuZmkS8J307LfpcwWSZLmzx40fcQZVgqGldPdbtX+ZcNe6QZzcs4stDBNSD2sRiLF7Vlp6xTGul2+nqHO9RDYWTobx1Z4eTOsARWnVJldvNnHTO24jJEUJTgKh5276zS3aRt2p5gepCNI8a1vJvRM9a7P5aDdpcnpeXKJXY2Jaz8sxx88PRz0+PSDF0NKdMKqB+XiBWHRs9VU8IawmsuS1fbIsI8WVEVuI205UNazxs10v70HlFaqMDshRdeMIDTKllpNgJAPcdnnnkGjz32mHvXS1KbFcnPt3PtkRSw/OAHPzAtTNsY6tSE9Dri1VdfxQMPPLD0gWIJf98v3krky6X8yaj8V0Mqx6Xy4I2T6k/1pTp2MsGd5iPj83UluuZj6SbGx9kAStYwW/bAVSDrKrb3z7qlntMlz8rfqHu7P/VKrW5TNWgKqJbIohghIHX1Ip1KY7g7j/MXTmGAoFZnR9EelwjTjVFb00b+MkeH6U4CDQGzqTMnKTw6OnJYNzCIPEeRHYm0gbGdaFJcwHbG//l77sIvv++9uOem/QSzNAocHc+Xypij0aPTB5T13kKVmycgphkmz9Fab08Pokl22ChLV6+x0jkSZtg1gwPUCCliKXg0NVqbHcPN29ajhyPoCyMXMbR+E0bn4nj2lSO46+YtKEUbOD5VwoWZgk3fbmQZ+yLUnFkdOl5Lq4d1yo72fGrQoEYlbVJg5h+yQFUk0DSQo5tAT3XrGpU6GJ1dKDeYCcX3IKLnpjBOUCmOE3yejIfiWRpyYHoBL6Xh3cLG4rQZcxcfC+TagbmbXXkWz+WwcnNCwpXPxVum9nKIljoTb+VkHwomD52408lBjGMcpO0N/WdmJjFfpsDMdlGICzQcADlaviqmT8uE+pKfyNdZ2M2HeR0jnsY3bBy5fX66F/Q1kGpSC2Q7bmU4iGT7dvTaeDZdSqNnaYMBGvHSqs94teQERk7lVc360rLOFYc3bgAhHsGVJtkq24k7sUwnJYcDYldTPo+Oy6V2F0arUD1pJWuyWWY5iojm9d1LtTlR8EwtqMuv4qocSl9hUhGWf3EBzSS1EGmy5qM/lwsLFCSlMrgtOyJdZSw3Zk+3aohVFjHEQblO3PEhwyQZIKC8FqN3XgJKTSv6lbBaralTfKSZ6hloMckf/dEfGXBKA1Qc37YlxKWNKu5zzz1ni08+9KEPGSAqX3pPJ41SQKz3dpKNsv+0vyH5eiTA14rdq9naou020pA1MLjWMmlKWoMR1ZGehzTT7373u0vP6fVoWRpegVwT9T8i1+htZEaBHmdD1OhO3lo0p9am4rgRedgoriPXqNVBXUgt9pG9bieQROy8zX0ckekr7sePHUGzsIg8R071WhVdBK71w2uQSKeR68iz07XsuDcBXpaA0pPMAuSj70vWiJA6TWTh7BncObgGf/DRj+OundvpN4EHn/sBHnjkazh59HmkGwsYSkZQOH8KsxfOEHCLaFTKVqAFPqTx0fOYnZ/C/MIsS9XA8PpBDK/tR093h03n6ivsFaajxUAL1BBPXriAXGccv/UbH8ZHP/heHD19EYeOn8B0sYSDI+MYLxQwtG6tLcUvsmGr2txXFGghKOhe73pNs7Q/1Rl/JTAkRVT/vAp4BCLCBxMVrjrdwwiM3AygaPHGyAQIhQZH6/Y+l0wMZzQICD0zB1Lio7hK09sDPpeQ8uDy4f1dWLO68vloPozu5S4n3nvgs3R9RJL30whadv9u0/sFFrO7e7Ypy2s4URc+TPJxrkE988eu9JCLgMMJcv1pilrTeeIpd8Uj8FiepcWJWH6Gc3kTM5cPacnGQXHooGk/LZLSc6SzC7v0u+ykRy67uJrgtxA04m+BqBnx6tZbuZkIOxrPT5sqGAPonb6etcpSE1PyME2NfYaZc4ol/9QXVTqVU23AWqA+Z6UAjKu09IFzAaXs2uGostq2C6sH5Y3/Cmfp6MpnRn6m6XDAZ2VRoAgHMownPnawgv6UHWJwhIPJKjNfZ1I6a4Ct0aip9mk2aZ2sx5bKyPKqfvUMmLD2P+qYOs3+WJ7EN3geFtfah+6kUTp7Oy23o2sjH1+AoHdhWqyiA9JvvPFG236gr/VrYY6mc//dv/t3+Gf/7J/hT/7kT2zbh0hAqPhajCNw1btGAaamW7UnU1sZBIh6X6cpRfHzA0XfL/4x0Jsti6aqP/zhD1td693kH//xH9sgRYOKq6E3pElac+GP3klOjI+isjiPOFt3hJqjtAs1Nk1WmSKtgtl/uIBBg1Pj4Z8K7xohQ5HnIsGijASOjE5iolyhdhZDLhnFJEcevRxxznEkNleYxw0cVRRmZvDckROY52hMe9t6ch0Y7O9DRyqHbo4yFzlKLcc5Ys0l0ZpfxL1sVL/44Q9ibPwijl08g4efeRzPPf8kWrUFdDBcpl5GlpphN0G1UZhDQsDDTtZi+fQlg/nFGSwSNLU3S4tqOsi3q4vXzi40lAd2fB1orQFDgnGmx0axd9MmDPR0IB1JMn4Rvb05rN88hG889TyOTxNsKeyHBnrRG4+il+lpH5lO89Fr1ThHtvootBbsJHjV/kgHHqpF5k3VyHCyqd5Vj3ZSjygI4+tW92ZkNTdHZtc/r97dBByNQNXtn3TPyfxk6O7IX19LjpWFlmWJt5GsJj1l5ZX/HhR9e/DGu4f5eOOy5PIlUlwJR81KuDw6gJetu4ftovNy+8xa9k4yfMC5fX1f6cquEBossC0wVbZ3rWTWdCc9GEaCO8l6jzTqYCtwg0eVTXlkPpzeor2HTfYb2ehOfmne67QoW2VN4JBQF3/LMH/058SdJUR+espsF+RQ1wHf1OakSUY05SlQYx8QEJpmSKO9jjVqjOKrd+yqKXGIasaiWrCzjhPZbiRZgkaVA8IG269Aj7xs32O9SjeCe4z9R+kznDSvUmnRzopFvWmrU+MEYqUZZ/ox9iGt4Lb3ukxP7ur/MVRZb3XU9T3Xqla+M3ykgmqpgESOmiR5aIpVaVhqrJcqB5taHKT6taEHy69p4lSEfowX1UA4kbHnrslY7ausW3kdKCrP2ifaqNCND0sL+ljZfLbBgIf8Mq1K8E5yLdu6n6L+8ZHyqveS0qAEkgI8TaHq/aX8BHL6BJe0Rt1Lq/TvH3fu3GnnsWraViArrVJaltylmWl6V+/dFOetrkkKoN6IJqmFSm9GkxRpJa22nAgY9+7di/e9731LWvvr0TWCZAMTExP2XUaTKvpnw9TWC+mDktVqpD4Cn/cy0c0fH6URtpMEFBiMW2THrcZTODw6gdHZggmRToJRluDT3d2HKhtVtV5Bk1pbL9XkEQJmkSlp9WkXKzzBhp5OplFnB06mU7Z9I1Yq45Ydu/DJD30Ir7z6Cs6wQb36yivoT2bw8bvvxa07tqA/HUV3IsZrEmu68hjo1jfsCPX1hh1cUK9WWMFbCXQLrLEI80LtlZ2sMF+k6s6BQjKO3p5uVEoUBhQqAjRtT5mZnnNbOeIRbNi8Dl1DPXjm4AG8dHEMsxRoes/Ulc9hkB24n/VnG66ZBweSMSTproOY9R7WTuLhaJxi2NWddfTgDYwErD1s1amrdh3oLI3UgpqPfh0prIVfdiLpRg+KhgJP203clhO5LYf36agTizyvsLGAZpb9w24unWU/5/9a8qNii+eiGCm8B1AfxuWHAjMAdntnzHsBp9qOm24VhfMhuhQkJdhVw2rWIubO5Y9G+3NHjjyLv/kfn8GFmRo2b9UXN4DRo8/hL//sf6JYS2DLtg0GsnXlT/Gp6cSaC3j4K1/G9x97GRt2bEVftoUjTz+Cz/7V3+DZJx5DjQA1vHG7A3iWw+duuchK37knOAwVSIIgaQtmmJY22c+NnMADP3gU3YMb0Mv2fOKlJ/EPf/9FnDh+CkMbtyGtzfcEOTt4oLZo57om2TYvnHgJX/nC5/H8C68g37cWfb29qM+P48HvfgePPvgY8p1D9nWQKEFNwFYjQOk7qQ9//2E8/shD6MgPmH+rPI1nHn0YD3zz+4glO9C3ZpDpSSPlwKVZwlPf+Qa+/vVv4/lnXsD07AI2bxyw/h3PMK7VVZTAzv4/P4bvfflr+MEPH0SpnoQ+dJ5ke1RfMRCNNlFbZB60v5L92+CQYDdy9gS+8fdfx5mTZzG8YSOy6RhOvfIUvsI6OPTyEfa9tZQTeYbnYMXaTsO2tDiQ1GECP36Q9O1cbVV2LbqRhnnPPffYtg0dRiANUe6aklUYAaamZSXU9T5TYCENU4AqzVQLezSd28vn9sQTT5jgF5i+lemNTrdeD5BUXB0AoWMDtQjoala1eroqkBQrY2c/mgLUN8smUSxXEdPWjECY2p+Az0iNl0YSX04S5PZHYkfVH3OpX+fOeOVqlSCZxvm5IkYJboWFAnZt3oCBvl6kOjoxzs5RW6zgwqEjBMA0coNDmJxfsPd2SQEGwfH06AhmCaSaa04XKtiU7cLtt96Mk6dO4tjhw6jMTGNrdy8+edc9qI1N4OnHHsGzTz+NYwePYOz0eRSmJ5EmYK4ZHkKWo76ZiXGcO33KLSbq6cUINegGAbTBtBZmBZJzBkhajZrUCjtqjQuslwY7YqlcxzMHXsLIxAUcv3ACj7/8Ek5OENhT7J4UcDpMoJsPa5DpaUWslvjboiBqzOq0BpL000pdTRsJoFWBNi0mo4esfw2lVe8SSnQTcKh+nV0v8l2ntEZh/7LrQdAeXB1p6knPRU+FRkjhHpPxUXrq4HayktwkuOj2euZSUmNQvuTu8iVqj+ONJ94t3ftrGKj91cDTePswHiQvd7rHSiBJV4suwUyL7EwqGW/gzMsP4jP/6T/j3FQSd737PeinQvPsdz6LP/nPf4H+Dbfh9vtuZz74/BlBU5lp5mXy7Mv4b//HH+LA8Tm89wMfQLY5ib/+73+CicUIejNRPPyDx7D9prvss1ARPnsVx5VMOXHl0DORLdFyIClNUnOSqoIEddiHvvq3+M4Pn8aN97wX3a15PPjtb6F7aA3qHKxNzJYJ6NsIcjr2kOVrlFHRRn5qfl/94heQzg9ykJnEgSMnsH7jWjz/2MMoVuJYN9CJoxTMnQTe7u4cUiigzLp69JHnUGglsGaoD4cPHETP4AAOHngKE+ML2EQBdPLECcRy/Rjs72QdtFAtzOGbX/4G+rfsxp79u7Fm7UasIb8K+3uko9emTyUJ4rV5PPrQD3BxuopN6wbYL5/Eum170N3Tb/JBg4